Emerson College fails student in sexual assault case
Sarah Tedesco, a sophomore at Emerson College, is only one in a crowd of females who have been subjected to the humiliation of a sexual assault case. The difference is that hers made the news.
When Tedesco reported that she had been sexually assaulted, it took administrators in Boston months to even begin an investigation.
They told her that she should not be making a big deal about it. During the investigation she was sexually assaulted a second time.
The investigation underwent in January and the person alleged to be the assailant continued to live in the same Resident Hall despite Tedesco's unease with the fact; an administrator urged her to take the case to the school authorities rather than the Cambridge police. Nothing was looking positive for a victim trying to get some shred of peace of mind.
According to the Huffington Post, this isn't the first time something of the sort has happened at Emerson College. In 2012, another female student filed complaints about mishandled sexual assault cases.
Why has this not gained any traction until now? Why is this not the top news story after a summer in Boston where Beacon Hill residents were on high alert of rape cases? Why is a University's first step in these situations to preserve an image rather than doing their utmost to protect the livelihood and safety of a student?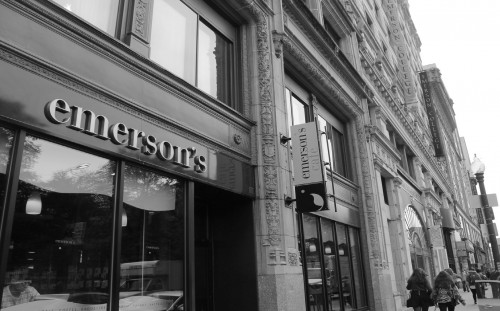 On Oct. 9, Emerson promised to improve its handling of sexual assault cases after students congregated to file a complaint with the federal government about the mishandling and downplaying of the incidents. In an email to the entire campus, the president of Emerson, M. Lee Pelton, said, "we can and we will do better."
It's very easy to vow this after being brought into the spotlight but if it had not, if Tedesco had not spoken up, if multiple news outlets had not jumped on the case bringing poor publicity to a popular school located in the heart of Boston, would anyone from the administration had made a comment? Would anyone be fighting for Tedesco's voice to be heard? What has to happen to make a school listen?
In this case, it took Tedesco being told to on more than one occasion to keep the events that transpired quiet, being sent anonymous threats with no authoritative follow up, being subjected to traumatic questioning as if she were the perpetrator and not the victim, and to being sexually assaulted a second time while a half-hearted investigation was undergone.
We live in a rape culture: a culture that is surrounded by images, languages, laws and reactions that encourage, allow and enable the continuous onslaught of sexual abuse. This time it was Emerson telling a student to not make a big deal of being raped, but it happens constantly. At its best there is an apathetic nature that society has adopted towards sexual assault. At its worst there is the nature to blame the victim. There are the people who will say she is lying, she was dressed to provoke, she should not have been walking alone or she shouldn't have gone to the party by herself; she should have fought harder, ran faster. There are only so many ways to blame the victim for the act of sexual assault, and yet we hear them; are raised to accept them as the norm.
According to One in Four USA, a website dedicated to educating audiences on rape statistics and culture in the U.S., in a study by the U.S. Centers for Disease Control, 5,000 students at over 100 colleges said they've been raped at some point in their lifetime.
They said that 42 percent of rape survivors told no one about their rape.
Is it that surprising if they are met with the resistance that Tedesco was? How many men and women have had to live with these assaults and either chose to say nothing or are told to be quiet? This isn't the first time a college has been accused of keeping such actions under wraps and although the story of Emerson made headlines, I doubt there will be swift acknowledgement of those faults overnight. However, if rape victims are given the opportunity to speak, if they are attackers are brought to justice, that will at least be a step.
Emerson College failed Tedesco. Hopefully stories like this won't continue to emerge.
Leave a Comment