Volleyball Lady Rams going for the playoffs, Kennedy makes 1,000 digs
The Volleyball Lady Rams are ready to break the sad streak of not reaching the GNAC playoffs since 2006. With three GNAC victories on the account already, the Lady Rams are very optimistic about their chances of going to the prestigious playoffs. There are only three GNAC games left on the schedule and with a victory in one of those games, Suffolk will be ready to take the big step.
Senior Colbey Kennedy who recently reached a historic milestone of becoming the first ever Suffolk player to reach 1.000 digs for her team was very exited about both her achievement and the teams win against Mount Ida college: "It was a weird feeling to reach that milestone, but also a great feeling. The Mount Ida game was a great one for us. We played some great volleyball and we were working as a team."
It is no secret that the team has been doing much better this year than in the previous years as the team is more united this season: "This year the team is more focused, more determined and in general more drive to win. Also the team chemistry is outstanding this year and everyone is working well together. The previous years we were not always playing as a team," Kennedy said.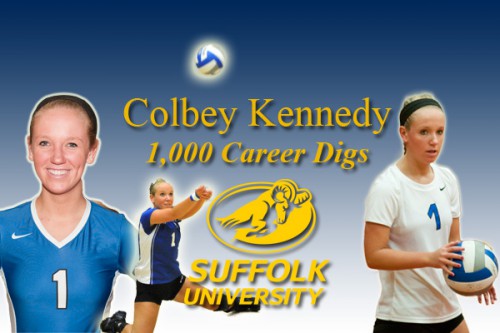 Having played on the team since 2010, the senior is now in her last season for the Lady Rams and there is no doubt that she will miss college volleyball in the future. "I am going to miss the excitement of the games next year and the team as well," she said.  In her time at Suffolk, Kennedy has been an extremely important part of the team and its defense, as evidence by her recent achievement.
The team is now focused on the two very important GNAC matches next weekend against Lasell and Norwich. Norwich is a team the Lady Rams have to beat if they want to secure the GNAC playoffs as fast as possible. Hopes are high and it looks like the Ladies are on their way to the playoffs. There is no doubt that the volleyball Lady Rams are ready to go all the way this year.