Apple and pumpkin themed foods fill the bellies of Bostonians at Boston Local Food Festival
Thousands of local-vores and epi-curious Bostonians braved the damp weather to browse the many booths and food trucks at the Boston Local Food Festival on Sunday.
Booths at the festival covered over four blocks of the Rose Fitzgerald Kennedy Greenway, featuring local restaurants, cooking demonstrations, live music, cooperative farms, and sustainability advocates. Even Ford had a booth, with a raffle for a two-year lease on a new C-Max hybrid. Its culinary offering consisted of some rather uninspiring cookies.
The festival's website reports that over 40,000 people attended last year, but that number likely dropped in 2013 due to bad weather. By 2 p.m., it had gone from a mist, to a drizzle, to steady rain. A sea of umbrellas hovered over the crowds, blocking many signs marking the booths.
Many vendors offered free samples of their products, and the event capped the prices vendors could charge at $6.  The low prices and free admission drew many parents and children looking to sample a lot while spending little.
Food vendors included restaurants and farm stand kitchens, and ranged from American to Thai and Jamaican food. Many of the foods had a fall theme, often with pumpkin ingredients. Local farmers displayed a range of freshly harvested vegetables and apples fresh from the orchards.
While there, I sampled food from Volante Farms and Flour Bakery. Chef Todd Heberlein of Volante, in Needham, cooked up pork sandwiches, slaws, and salads that they make in their farm stand. Their perfectly cooked pulled pork sandwich featured apples and slaw on top.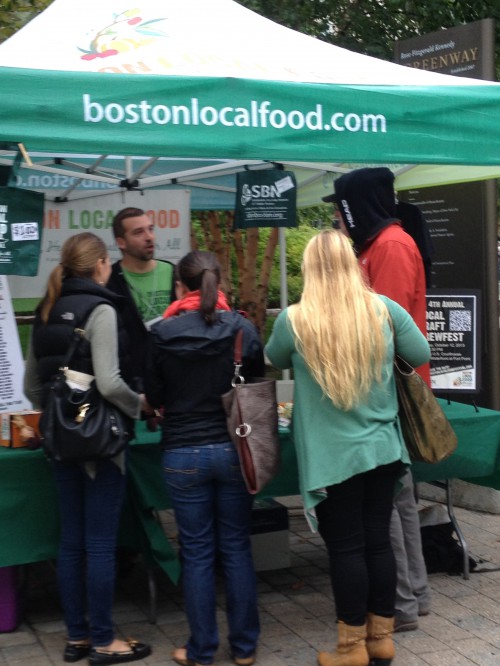 From Flour Bakery, which has four locations in Boston and Cambridge, I tried a fresh apple turnover, which was surprisingly filling and cheap, at only $3.
The festival's organizer, the Sustainable Business Network of Massachusetts, plans the event to reduce waste and limit pollution. According to its website, the festival is a "zero-waste event, meaning we divert 91 percent of our waste each year and we offset 100 percent of our energy use."
Many sustainability organizations reached out to attendees, including the Massachusetts chapter of 350.org, an anti-pollution website. One of the live sets to perform criticized the controversial Keystone XL pipeline. At least three vendors tried to sell their own 'green living' magazine.
To help the festival achieve its goals, volunteers from Suffolk's S.O.U.L.S. office stood by the numerous combined trash, recycle, and compost receptacles. They showed attendees how to dispose of their garbage while wasting as little as possible.
Suffolk senior Elise Kapitancek said 17 volunteers had come to help, including students who will be going on Alternative Winter Break or studying abroad, who were required to attend.
The festival "is a really cool, fun place to volunteer." Kapitancek said. "And once you come here, you know who's close by and has good food."
Suffolk students worked through the last four hours of the event, during some of the worst weather of the day. But after their work was done, a hot cup of cider and some filling treats were only a few steps away.
Leave a Comment
About the Contributor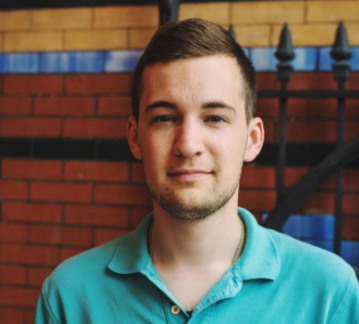 Sam Humphrey, Newsroom Manager
From starting as a staff writer to helping edit and manage the entire paper, Sam has seen every side of the Journal there is. He covered protests, changes in the school's administration, and local political events on Suffolk's campus and across the city. He graduated from the Sawyer Business School in May 2017 but his favorite memories of Suffolk are from his four years on the paper.