Former Afghani MP Joya visits Law School
At first glance, the mild-mannered Malalai Joya does not pose an intimidating figure. Joya, a new mother as of eight months ago, speaks softly and chooses which words of her second language she would like to use carefully. She stands only about shoulder-high. One who does not know of her background and her achievements would lump her in with the masses as just another ordinary person.
Malalai Joya, who spoke at the Suffolk Law School on Tuesday, is anything but ordinary. Called "the bravest woman in Afghanistan" by the BBC, in her youth she bounced around between refugee camps in Pakistan and Iran. In Taliban-ruled Afghanistan, which forbade education for females, she founded and ran an underground school for young women. In 2003, at the age of 24, Joya was elected to Afghanistan's new constitutional assembly. There, she gained international notoriety when she gave a scathing speech denouncing NATO and its corrupt backing of Afghan warlords. Two years later, she became the youngest member ever elected to Afghani parliament, where she spent a short amount of time before being voted out due to sustained institutional criticism. Throughout her political career she has survived seven assassination attempts.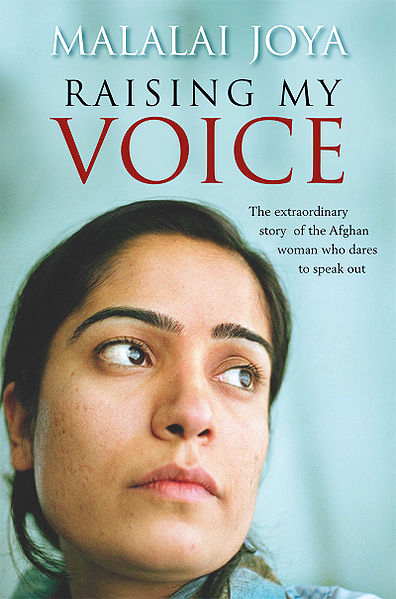 Today, Joya travels the world, getting her story and the story of the oppressed people of Afghanistan out to anyone who will listen. This week, she graced Suffolk University with her presence when she spoke at the law school about her life story, intertwined with that of her people.  Her current US speaking tour is sponsored by the Afghan Women's Mission and the United National Anti-War Coalition, and her engagement here was sponsored by the Center for Women's Health & Human Rights, the government, history, philosophy, and sociology departments, among other groups here at Suffolk.
In her talk, Joya deconstructed many myths that our media and government would have us believe about Afghanistan. Her purpose is to show people the other side of the conflict in Afghanistan; the side we don't see here in America. For example, while President Obama delivers withdrawal rhetoric to our nation, our government is actually working with NATO to build nine new military bases in the country.
Joya's anti-American rhetoric has not seemed to cool much since her first big speech in 2003, but it must not be misinterpreted. She lauds the American people for being lovers of freedom and justice, but condemns our government and NATO for its handling of the Afghan crisis and other similar situations in the Middle East and around the world. She also blames Western interference for many of our own problems in the Middle East.
"The Taliban, [warlords, and drug lords]… are products of the White House and not the enemy of the Afghan people," she said, explaining that the Afghans themselves did not give rise to these problems, but that they are in large part a reaction to Western imperialism.
Her criticism does not stop there, as she also accuses NATO of supporting an illegitimate farce of a democratic government in Afghanistan. She claims that elections in Afghanistan are corrupt, and most of the candidates are either corrupt, U.S. backed technocrats, or corrupt, U.S. backed warlords. "In Afghanistan we have a saying 'It is not important who is voting, it is important who is counting." She also did not refrain from calling Afghani President Hamid Karzai's government a "mafia state" and citing news reports in which he admits to some of his colleagues receiving deliveries of cash from the U.S. in the hopes of securing his government's loyalty. "Your taxpayer money goes to the pockets of warlords" she warned the audience.
Joya also pointed out the more immediate effects of the U.S. presence in Afghanistan. She showed the audience pictures of children who had been maimed and killed by white phosphorus bombs used by NATO forces. In a short documentary film she showed, a man described an experience in which himself and four friends were fired upon for no reason by American soldiers. He was the only one who survived.
Joya's lecture concentrated some time on the plight of women in Afghanistan. "My country is the most dangerous place in the world to be a woman… my country is the heart of women's rights disaster in the world," she stated bluntly. "Eighty percent of women [in Afghanistan] face violence on a daily basis yet the perpetrators are not punished." She brought to light the issues of rape, arranged marriages, and female self-immolation, a practice that she says is "skyrocketing" in Afghanistan. This is an issue that she was very vocal about during her time in parliament, and a large part of the reason for which she was eventually expelled.
The talk proved to be an enlightening experience for all in attendance. It presented an unseen side of a story that Americans are all too familiar with. Joya managed to bring to light not only the humanitarian plight of her country, but the political plight as well.  As she told the audience, "In my country, the first casualty is always the truth."
Leave a Comment