Slovenian President Turk talks about his vision of U.N. with students
For its 6th annual senior lecture series, the United Nations study program at Suffolk University invited former Slovenian President Danilo Turk to speak to students about his work with the international governing body. Held on Tuesday afternoon, the lecture coincided with the first day of the 68th annual U.N. General Assembly meeting in New York City.
Turk most recently served as president of Slovenia from 2006 to 2012, and was previously U.N. Assistant Secretary General of Political Affairs from 2000 to 2005. He also has an extensive career in research and teaching international law at the University of Ljubljana.
While the lecture and discussion with Turk was open to the entire university community to attend, the event was aimed specifically at students in the U.N. seminar class this semester that studies how the organization works and even gets the opportunity to visit the U.N. headquarters in New York City later in the year.
"It was really cool that we got to hear from someone who has experience in what we're studying," said Cori Simmons, a senior in the seminar course and the president of Suffolk's International Affairs Association. '"It adds layers to our studies. It's incredible."
Turk spoke off some prepared remarks that reflected his experience in keeping international peace and security before taking questions from students. Alternating from historical examples to present day situations, Turk expounded on his vision of non-intervention and what the U.N. can, and should, achieve.
"There is always a difference between what is possible and what is desirable," Turk said. While using diplomacy over military force is always preferable, he says it is almost impossible to achieve diplomacy without a stable legal framework or threats of force.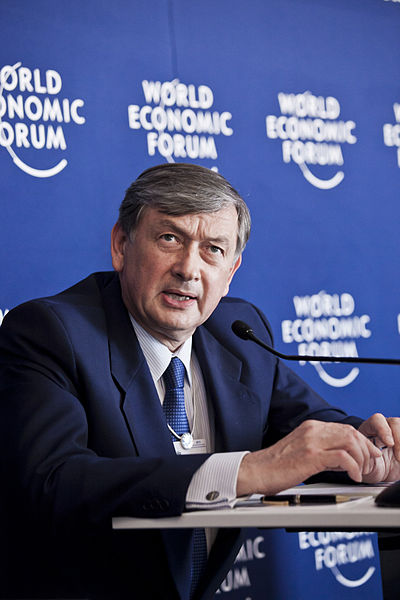 Turk's thoughts inevitably lead to discussion of the current crisis in Syria. He stressed the importance of bringing all sides in the conflict to the table and ensuring that all parties are taken seriously. "Don't confuse rhetoric on one hand with real talk on the other," he warned.
"There is no such thing as light military intervention," Turk said, "It is always painful. Diplomacy must come first."
A core issue that Turk believes arises in conflicts today is the increase of intrastate conflicts rather than interstate conflicts.
"This is not something the [U.N.] charter had in mind," Turk said. The U.N. was created in 1945 with the intent to mediate problems between member states to prevent another world war, not to mediate issues within a single country.
Turk conceded that the U.N. is not always successful and that sometimes regional bodies can move quicker and more efficiently than the global body. For example he talked about how the U.N. "tacitly accepted" much work being done over the years by the African Union as it has been more effective than U.N. work.
But, he stressed, "This does not diminish the responsibility of the U.N."
In the latter half of the event, Turk welcome questions from students on anything from his life to his work to the basic articles of the U.N. charter.
Turk agreed with one student that it would be helpful to have a specialized armed unit at the U.N.'s will to enforce policy decisions agreed upon by the Security Council in certain situations, but that such a force cannot exist now.
In 1945 provisions for an armed force were allowed for by the charter but "never materialized." Again in 1992, chatter in the U.N. circled around creating a force but the attempt fell flat once more. Despite its past fates, Turk believes that the debate for a U.N. special armed force will rise up again someday and become possible.
"At the level of legal arrangements, only the Security Council has the legitimacy to declare military interventions," he said. While the U.N. has its faults, Turk still believes it is the best forum for international policy and discussion, citing North Korea as an example.
The U.N. established a ceasefire in the Korean conflict of the 1950's but never officially ended the war, making the body technically still at war with the North Korean regime, Turk noted. But North Korea has also signed on as a member, giving the country a place to meet with the world and begin to slowly discuss issues.
"You always want to change what's hardest to change," Turk said, when asked what element of the U.N. he would alter if given the chance, "If I could have a miracle, I'd reduce the number of committees … especially in development."
After losing his bid for re-election as president of Slovenia in 2012, Turk is now focusing on teaching, writing, and speaking at international conferences.
Turk welcomed the chance to interact with Suffolk students. "Teaching really requires knowledge in another occupation to be effective," Turk told the Journal after the event, "I like to explain diplomacy and public policy to students."
Leave a Comment