Volleyball team changes lead to great start in new season
The Suffolk University volleyball team has posted a 6-4 record so far this season giving it a better start after the 10 first games than last year's 4-6 start. With the recent victories against Salem State and Curry College, things are looking bright for the Lady Rams and they appear to be on the right track to do well this year. Last season the squad was seeded ninth in the GNAC tournament, but judging from the season so far there are reasons to believe in a much higher position in 2013.
There have been a lot of changes in the team this year as former assistant coach Kristine Mickelson has become the new head coach for the team. Mickelson has served as the assistant volleyball coach for two years with the team and prior to that she had an incredible career as a college athlete for at Bentley University. She played all four years of college and never missed a contest posting almost 1000 kills, 399 digs and 399 blocks. In 2006 she led Bentley to the North East crown receiving multiple individual awards during her outstanding career. When asked about her expectations for this season Mickelson said, "The expectations for the team this year is to give it 100 percent every day in practice and in competitions. We have a lot of returnees and a group of solid freshmen. Myself and my assistant coaches have hit the 'reset' button on our team and started from the ground up. Focusing on basics in order to keep building as a stronger team. The end goal is to have an improved record from last year and make it to GNAC playoffs. I think we have great potential to accomplish both."
Another person who believes in the team's potential is the new assistant coach Shelagh Dolan. Dolan finished a four-year career at Providence College in 2012. Not only has the coaching staff seen changes, but the squad itself has also changed. Last year's MVP Hannah Davis who  also wrapped up her career in 2012 season will be greatly missed this year as well as Jennifer Duston who had a team high 42 serve aces last season. "The team has definitely changed a lot from last year. Everyone has come back with a new energy and passion to compete and win. I couldn't be happier with the focus we have" Mickelson said.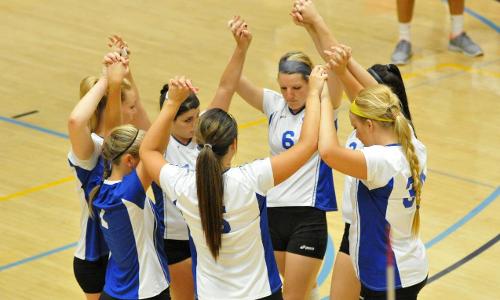 Two freshmen had joined the team that now has four seniors who are all key to the great play the Lady Rams want to produce. Another key player is junior Tori Brillaud. She was the team's top offensive player of the year last season averaging 2.36 kills per set as well as making 313 digs in the season. Individual performances are always great, but the true key to success is team play. If the Lady Rams want to do well in the GNAC this year, they have to work as a team every match and then the results will come. In the long run individual greatness is not enough to win trophies in a team sport. The key word here is team work. Knowing those key words, Mickelson talked about the strengths and weaknesses of the team.
"Our strength is definitely the ability to change and adjust with different line-ups. I think the girls are close off the court, which helps them on the court when put in different situations. One of our weaknesses is learning how to channel high intensity and focus it back on the game, rather than being distracted by it. I love that my girls are so passionate, but we need to focus on winning from our own good and skills"
With a 6-4 start to the season the girl's passion for the sport has certainly helped getting the results on the court. The team seems focused and hungry for success. "I am definitely happy with how the season is going so far. A win is great, but as long as we put up a good fight and compete well with higher level teams, I think that says a lot. We had a good weekend at Curry College, I know each game will be a new learning experience for my girls and myself."
Mickelson hopes to reach the GNAC playoffs and thinks that with the team's new focus and drive, there is a good chance this will happen. Suffolk has been playing a lot of non-conference games until now, so the team simply has to keep playing hard through the rest of the season, hoping something great will come out of it. The changes in the team have made has its new coach believing the Lady Rams are stronger and ready for the challenges this season will bring.