City and state politics heat up this summer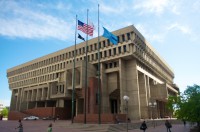 The main stages of politics in Boston and the state are literally on your doorstep. Suffolk University is located directly next to the State House and just a few blocks away from City Hall.
"There are so many students in Boston and we have to potential to make such an impact in every single election that we want," outgoing Chairwoman of the Massachusetts Alliance of College Republicans, and now graduated Suffolk student, Megan Dutra said. As a college student, this provides an opportunity not only for government students, but also for any and every student to be an active participant in civic discourse and activism.
You'll see rallies and protests happening throughout the school year on your walks to class. Campaign signs and chants will become as commonplace as bad drivers laying on the horn and historic brick buildings.
A special election to fill Secretary of State John Kerry's U.S. Senate seat is happening at the end of June and a newly invigorated Mayoral race to succeed Thomas Menino will be dominating summer politics as candidates battle to win in the fall.
Senate Race
Results of an April primary election determined that Representative Ed Markey is the Democratic candidate and former Navy SEAL Gabriel Gomez is the Republican candidate for the open Senate seat. Both candidates support liberal social ideas, like a woman's right to have an abortion and legalization of same-sex marriage, but have focused their campaigns on different issues.
Already a household name in Massachusetts, Markey handily won his primary with endorsements from President Obama, Secretary Kerry, and Senator Warren. Markey has touted renewable energy and conserving energy as the main platforms of his campaign.
Gomez, relatively unknown before the race, won his primary race by a whopping 20 percent margin. After serving in the military for 13 years, Gomez earned an MBA from Harvard University and worked as a private equity investor. As a son of Colombian immigrants, Gomez has campaigned heavily on immigration reform.
The special Senate election will be held on June 25 and anyone registered to vote in Massachusetts is eligible to cast a ballot.            
Mayoral Race
With longtime Boston Mayor Thomas Menino declining to run for an unprecedented sixth term, many new candidates are setting up their campaigns for a chance to lead the city. More than a dozen candidates have thrown their hats into the ring to campaign through the summer.
This cycle's mayoral race has welcomed the first ever Latino candidate and the first ever woman candidate — showing a lot of progress since Menino was elected the first ever non-Irish mayor two decades ago. The city is currently checking signatures for all the declared candidates to make sure all have reached the 3,000 threshold to be eligible to run.
With so many candidates vying for the vote, it may seem overwhelming to keep up with everything happening. Several websites, like WGBH's "Who's who in the 2013 Boston Mayoral Race" and Boston Timeline's "Boston Mayor 2013," break down the essential details on each candidate and even give rankings based on campaign funds and street presence, among other factors.
There are just as many candidates as campaign platforms it seems, as each potential mayor looks to focus on a key issue. Dan Conley, who has a campaign chest of currently over one million dollars (by far the most of any other candidate), has honed in on promoting innovation through providing better education and jobs. John Connolly has heavily highlighted reforming Boston Public Schools.
Voters must be registered at an address in the city of Boston to be eligible to vote in the preliminary election on Spet. 24 and the general election scheduled for November 5. Remember, you can use a dorm building address to register to vote.
Leave a Comment