Commencement Speakers for 2013 unveiled
New England Patriots Chairman and CEO Robert Kraft, Reebok founder Paul Fireman, and political journalist Chris Matthews will be speaking to Suffolk students at this year's commencement ceremonies.
The ceremonies will be held at the Bank of America Pavillion in South Boston. There will be three different events, one for the College of Arts and Sciences, one for Sawyer Business School, and one for the Law School.
Unlike previous years, undergraduate and graduate students within the same school will attend the same ceremony and the events will happen over the course of two days, not just one.
"The events have been structured to provide for students and their families," said Vice President of Marketing and Communications Greg Gatlin.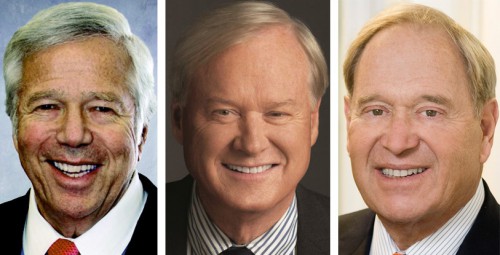 Kraft will speak to College of Arts and Sciences students on Sunday, May 19 during their joint undergraduate and graduate commencement that afternoon. As Chairman and CEO of The Kraft Group, he owns the Patriots, the New England Revolution, Gillette Stadium, and has assets in many other fields, such as paper and packaging and real estate development. Suffolk will also give Kraft an honorary Doctor of Public Service degree.
"I've grown up with my father donating platelets for Robert Kraft's lab in Dana-Farber," senior Dan Newall said, "Having him as the 2013 commencement speaker at our graduation is extremely meaningful and hitting close to home, making the event of graduation even sweeter."
Fireman will address students of the Sawyer Business School earlier in the day on May 19 during their joint undergraduate and graduate ceremony. Fireman founded and served as chair of Reebok International. He will receive an honorary Doctor of Commerce degree from Suffolk.
Matthews will speak at the Law School commencement ceremony on Monday, May 20 at 10 a.m. The host of MSNBC's Hardball and NBC's The Chris Matthews Show will receive an honorary Doctor of Laws degree.
Leave a Comment