Suffolk Softball Looks To Turn Season Around During Critical Stretch
Suffolk University's softball team has not gotten off on the right track this season but hopes to change that soon. The Lady Rams currently own a 3-13 record through the first three weeks of the season and are riding a four game losing streak. This is a streak that head coach Jaclyn Davis is working to put an end to.
"We're making improvements every day. We're a young team that's trying to come together. The culture has changed and that's something that was really important to me… I just think our record doesn't show the effort and time [the players] put in every day," said Davis.
The Lady Rams have just 11 women on their roster: six of who are freshmen.
"We're trying to do the little things and take advantage of opportunities a little more. When we come together, the wins will come," the coach explained.
Davis mentioned that among the opportunities the team must take advantage of are base-runners.
"We've left quite a few stranded on base… we've made some errors and that comes from the small roster and being tired late in games. We're learning to work hard and push forward," Davis said.
Suffolk was able to put together two straight winning performances against GNAC rival Emmanuel back on March 27. The Lady Rams outscored the Saints 13-6 that day. Pitchers Julia Ludvigsen and Sarah Chasse didn't let Emmanuel get on base, allowing a combined 11 hits through the two contests.
"Both games essentially at some point could've gone either way. We did a good job sparking offense when we needed to and pitching was spot on. Sarah Chasse had a great game. Alicia Gonnella came in and did a good job [closing] as well," praised Davis.
The head coach explained that the hard fought wins "speak to what we're capable of as a team and in conference as well. It gives us extra confidence that we can do it and feel good about conference play."
The Lady Rams are entering a crucial part of their season after today's double-header with MIT, playing 16 GNAC opponents in their next 18 games.
"This is definitely crunch time for us. We definitely have to do better, learn from mistakes. We can make or break our playoff bid at this point," Davis noted.
Pitching must stay as productive as possible and the freshmen must continue to step up to keep the playoff hopes alive according to the coach.
"The freshmen have done a great job, Nicole Rosa especially has been phenomenal at the plate. I'm really proud of their efforts so far. It's not as easy as people think to come in and step up. To their credit, they've had no choice and done such a great job."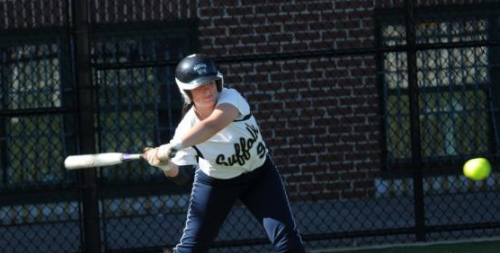 Suffolk will try to turn its season around during this upcoming GNAC-heavy stretch which involves its cancer benefit home game April 7 with Simmons College.
"We are playing in memory of Carol Maggio, the longtime athletic department secretary for 20 years that passed from cancer a year ago. It's a really great cause and Simmons is in on it with us, we're very excited," Davis said.
Time will tell if the Lady Rams can make a late GNAC playoff run but the best chance to make that happen is right in front of them given this April schedule.