Controversial Case in India Sparks Protest and Change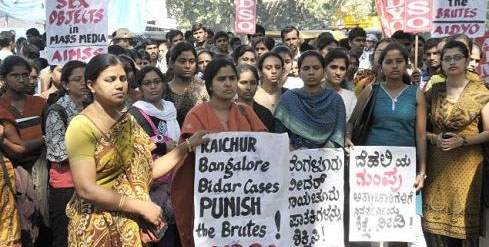 **Trigger Warning**
Truly, it's impossible to understand the atrocities that are committed daily in a single article but on Dec. 16, a 23-year-old woman on a bus in New Delhi was brutally assaulted while returning from the movies with a friend.  The friends believed they were taking a regular bus home, while it turned out that the bus that they had entered was stolen and all six men on board (including the driver) proceeded to beat and dehumanize the victims.
Abandoned on the side of the road and left for dead, the woman and her friend were later found on the side of the road by a passerby.  Specifically horrific was that the unnamed woman was discovered to only have five percent of her intestines in her body.  After being flown to Singapore to be treated for her injuries, she  passed away.  A closed-door testimony occured this week by her male friend who appeared at court in a wheelchair, still bearing the scars of injuries from the attack. The trial of five men charged with the attack has started this week.
Following the ordeal, thousands of people harmoniously joined together in a peaceful protest against the injust rape law sanctions.  Police sealed off large areas in central Delhi that were near government buildings, along with many metro railway stations.  Hundreds of armed police and riot troops were on duty and Delhi's police commissioner, Neeraj Kumar, called on the public to remain calm.  "We don't want your condolences! We don't want your fake sentiments! We demand immediate action to strengthen the laws against sexual violence," read a banner at the protest, while some men wore skirts in support.
A few weeks ago in Nepal, the case of a 21-year-old woman who says she was raped and threatened with death by a police officer and robbed by immigration officials, prompted hundreds of demonstrators to converge on the prime minister's residence in Kathmandu.  In Bangladesh there was an alleged gang-rape of a teenager by four men over four days in early December in Tangail, 40 miles northwest of Dhaka. The men were said to have made videos of the attack before leaving their victim near a rail track where her brother eventually found her. These are just two of the countless cases that have lead to the movement.
For weeks, teachers and students camped out at protest venues, marching and submitting memorandums to government authorities to make the city a safer place for its women.  Curfew for students living in campus dormitories has been brought forward an hour to 9:30 p.m., and girls are now required to seek permission from the college administration before going out with friends and provide details of the friends they are going out with. One student said during the discussion, "Why should we pay for the crimes men commit? Lock the men up. We are not the culprits!"
Indian media recently reported that the government of the northern state of Uttarakhand passed an order stopping women from working after 6 p.m. in both private and government jobs.
The regressive edict, conceived by the state government as a way to curb crimes against women, was widely opposed by women's-rights activists and the political opposition.  While numerous protesters have been beaten, gassed and shot at, one protester asked an officer "Why don't you come and join us?" "Aren't you angry at what happened?" Truly, that is the real question.
View Comments (1)