BSU students celebrate Black History Month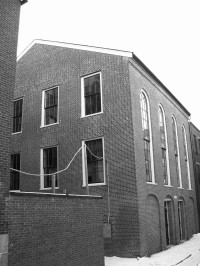 Black History Month, celebrated every February is a time where individuals nationwide celebrate and reflect African-American history, and its influence on everyday life. Members of the Black Student Union (BSU) have organized a series of events, intended to unite Suffolk students, not only to recognize black history, but also to celebrate achievements that members of our past have over come.
"A month of celebration, a month of honoring, a month to reflect back on our past and learn for our future." said BSU President Ricaphène Lima, senior. "I think for our generation Black History Month has evolved into something different. It is a month where we acknowledge our history, and how it can make a difference in our future."
The African Diaspora represents the historic movement of Africans and their descendants, relocating and adjusting to different places around the world.
"I think the African Diaspora represents the struggle that the black community has and what can possibly be done to change the coming future. African Diaspora is represented in so many different areas around the world," said Lima.
Caribbean Islands, Africa, South America, as well as many other locations world wide, in present day, are strong areas that were affected by the African Diaspora.
"I wasn't even aware we had a black studies minor until my sophomore year," said Lima. "I think that's a terrible thing that our school doesn't take a greater role to promote it, compared to programs such as studying abroad in Madrid."
On Feb. 2, the Black Student Union invited Michael Curry to speak to students and faculty about leadership, the National Association for the Advancement of Colored People, and his involvement in the local Boston community. On Feb. 7, Black Student Union hosted their annual Heritage Trail event, where students were invited to explore the city of Boston and the enriched history that surrounds the Suffolk campus. The tour ended at the Museum of African American History located in Beacon Hill, just feet away from the Ridgeway building.
The nine students and one faculty member in attendance followed the heritage trail to historical landmark, The Meeting House, which is not only the last stop on the Black Heritage Trail, but also the oldest black church building within the United States built by free African American artisans.
"I enjoyed the church stop on the tour the most. "We talked about the church and the people that attended it at the time," said Lima. "It played many roles for a lot of different people in the past. It was very eye opening the work that the community has accomplished."
Most recently, BSU were forced to cancel their 'Mentorship in the Black Community' lecture due to a speaker missing a plane flight, along with the African Diaspora lecture due to the Valentine's Day holiday.
"Take a minute or a day, if not the entire month to appreciate and learn about the different aspects that Black History Month has to offer." said Lima. "Black history should be celebrated every day, not just during the month of February."
Future events include 'Booty Call and Hookups' in Donahue 403 at 5p.m., a safety awareness discussion that invites judgmental-free opinions and views when pairing with partners. Also Feb. 23 at 7p.m., the Black Student Union will be screening the film Black Power Mixtape. Finally, on Feb. 28 BSU invites all students and faculty to a Soul Food Luncheon at 1p.m., hosted in Donahue 403.
"Sounds cliché, but I love Spike Lee movies. Crooklyn and School Daze are my favorites." said Senior Kendra Eddy, as she shared her memorable moments of Black History Month. "My past four years at Suffolk, I have been a part of the Black Student Union and enjoy celebrating with the members. I enjoy sharing and celebrating it with students who might not have known about it beforehand."
Leave a Comment