Men's hockey wins season-opening tournament
Alex Mellion
Journal Staff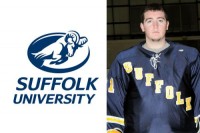 The men's hockey team got off to a fast start to the season, winning the Becker Ice-Breaker Tournament by defeating Assumption and Becker College.
On November 4, the Rams opened up the season with a 3-1 win against Assumption.  Jon Stauffer, Ryan DesRoches and Andrew Flynn each scored a goal for the Rams, and goalie Cam Kelley stopped 19 shots.
The Rams were consistently attacking Assumption goalie Nick Blanchette, as they managed to record 32 shots on goal.  The Rams were down 1-0 after two periods, yet they showed that they are a very resilient club by scoring three unanswered goals to seal the victory.
The next night, Suffolk beat tournament hosts Becker College 4-1 to capture the championship.  The Rams showed the depth of their roster, as four more players recorded their first goals of the season.  Andrew Ball, Scott Mathieu, Charlie McGinnis and Joe Greene all scored, and Kelley stopped 29 of 30 shots on goal, earning his second win of the young season.
The Rams managed 11 shots on goal in each of the three periods, and took advantage of nine Becker penalties en route to the victory.
For his efforts in the tournament, Kelley was named the Eastern College Athletic Conference (ECAC) Northeast Goalie of the Week, as he stopped 48 of 50 shots.  Mathieu was named ECAC Northeast Rookie of the Week, as his goal on Saturday proved to ultimately be the game-winner for the Rams.  It was the freshman defender's first career collegiate goal.
The Rams next game is Thursday at Worcester State, as they play in the Lancers' Pepperidge Farm Classic at 4:30 p.m.
Leave a Comment