Students trapped in elevator
Article by: Matt Altieri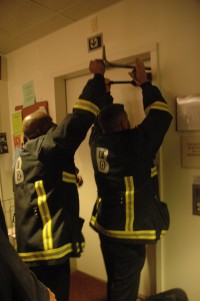 Seniors Caitlin Milley, Courtney Crocker, Carolyn Milley and Brittany McKallagat waited 45 minutes until the Boston Fire Department freed them from the left elevator on the fourth floor of Ridgeway yesterday evening.
Professor Ken Martin's photojournalism class was in session from 5:30 to 8:10 p.m. on the fourth floor.
Around 7:15 Professor Martin told his students to take a break. Ten minutes later, Crocker, Milley McKallagat and Milley got trapped in the elevator.
"This happens frequently and I've been long enough here to know," said Professor Martin. "And Ridgeway is one of the better elevators at Suffolk!"
With the women still stuck in the elevator, Suffolk University Police Officer Roberto Terrero knocked on the metal door and reported that the Boston Fire Department was on their way. The elevator company, Kone, would reportedly take too long to respond.
The Fire Department gave a speedy response, showing up at 7:30 with four firefighters carrying with them various tools to pry open the elevator. After several attempts to open the door manually from the inside by shutting down power, it was decided that enough time had passed and the department pried open the doors with massive pliers.
The four students then ran out of the elevator and back into Professor Martin's class.