Young potential drives the men's golf team
Alex Mellion
Journal Staff
The Suffolk University men's golf team opened the season with a third place team finish in a quad match at Nichols College on September 12th, and the team followed that up with a win against Emmanuel College and Newbury College on September 20th. Junior John Pettoruto and freshman Guillermo Quirch posted the low-round scores for the Rams on the 12th and the 20th respectively, which shows that the Rams have many talented golfers on their roster.
"We have some nice new additions to our roster this season," senior Pat Knowles said. "This year's team is hands down the most talented roster we have had during my time at Suffolk."
Knowles is one of three seniors on the team, and he will be counted on to post some low scores in the Rams' matches this season.
Fellow senior Alex Toma also expects the Rams to step up this season, in both individual scores and team scores.
"We have a great team this year with a lot of potential and we could put up low numbers at any given time", Toma said. "John Pettorutto and Nick Pratt are also veteran players who are very solid, and there are a handful of new players who are also great additions, including Quirch, Chris Taggart, and Pablo Monteagudo."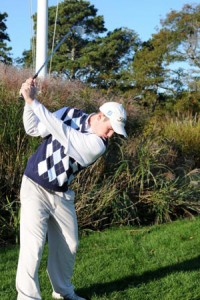 The Rams have a couple tournaments coming up, including the Eastern College Athletic Conference Championship, which begin October 1st at the Hampden Country Club in Springfield. After the ECAC Championship, the Rams will be playing in the Great Northeast Athletic Conference Championship, and then the New England Intercollegiate Golf Association (NEIGA) Championship October 16 to 18.  The ECAC Championship and the GNAC Championship loom large on the Rams' schedule, because both are conference championships and it would be huge if the Rams could have a good showing in one or both.
The NEIGA is a tournament that looms large on the Rams' schedule, as it is the largest gathering of collegiate players from Divisions I, II, and III competing at the same location. This year, the NEIGA will be held at Captains Golf Course in Brewster and Toma knows that it will be an opportunity for Suffolk to make a statement and perhaps make some noise among the rest of the Division III elite.
"Placing in the NEIGA tournament would be a pretty big statement and a huge improvement from past years," Toma said.
Leave a Comment