Women's tennis looks to build on solid start
Alex Mellion
Journal Staff
The Suffolk women's tennis team has gotten off to an average start to this season, picking up a conference win home against Anna Maria, and a loss at Bridgewater State.
The team defeated Anna  Maria College 7-2 in the opening match and then fell to Bridgewater State, 6-3 in the second match of the season.   Senior co-captain Rebecca Copeland is optimistic for the Rams this season and thinks the team can make big strides in the GNAC conference.
"Out of my four years on the team, so far this year has been my favorite," Copeland said, "I feel like while this is going to be a battle and we are going to have a promising season."
The Rams come into the season with several experienced players, including Copeland and her co-captain senior Kelly Conrad.  In addition to these two, several freshmen have seen time on the court as well. Adrianna Garrett and Erica LeBlanc are two new players who will be counted on for wins in both singles and doubles competition.
The team has several key matches on their schedule, including home against Simmons on October 5th, and home against Emerson on October 10th.
"Simmons has always been historically good and one of our toughest opponents," Copeland said. "We've yet to beat them in postseason play, and that's definitely one of our goals this year."
As one of the senior captains, Copeland has goals not only for herself, but the team as well.  She explains how the team's overall vibe has been great and how this year has been fun.
"I know that this is my senior year, and I am the captain, but I just want to play some of the best tennis I've played, get some big wins, and just push myself day in and day out," said Copeland. "The team has to battle through their challenging schedule, and if they do, there's a great chance that the team will qualify for postseason play and finally beat Simmons in the GNAC playoffs."
The team is coached by Steve Counihan and their assistant coach is Nick Trautz, who is new to Suffolk.  Their upcoming matches include trips to Emmanuel on September 22nd, St. Joseph's on September 24th, and Rhode Island College on September 29th.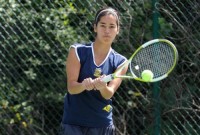 Leave a Comment