Rogers making impact on two different teams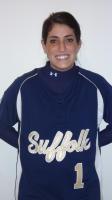 Imagine being a full time college student, and at the same time, a two-sport collegiate athlete.  Sounds like you'll basically be doing either schoolwork or have some type of practice or game at any given point in the day, and have no time to yourself right? Well junior Lindsay Rogers does just that, playing both basketball and softball.
Rogers, an honors student who has played basketball since her freshman year, decided to give softball a try for the first time this past spring, and ended up leading the Rams in most offensive categories.
"Some of my softball friends jokingly asked me if I would play since they were running short on players," Rogers said. "I love softball, but I never planned on playing in college. Now I wonder why I never thought of playing in the first place!"
Rogers posted some impressive stats considering this was her first season with team. She started all 40 games, splitting time in the outfield and second base, and led the Rams in batting average, hits, runs batted in and slugging percentage.
Rogers said that growing up in a baseball-oriented family contributed to her success on the field.
"My dad coached since he was 18 years old so my siblings and I grew up going to his games and practices," she said. "I played Little League with all of the boys with my father as my coach, and he taught me pretty much everything I know about the sport. She also credits her brother and her aunt as influences and role models for her triumphs on the field.
Lost in the shuffle of her softball process is the fact that Rogers is a pretty good basketball player as well.  She appeared in all 29 games for the Rams, and was one of the most consistent players on the team as she was second on the team in three point field goals made and minutes played, while averaging 8 points a game.
The women's basketball team finished an 18-11 season with a 77-52 loss against WPI in the ECAC quarterfinals.  Rogers did not experience the same amount of wins with the softball team, as they finished a disappointing 12-28 this past spring.
"All we need to do is put it all together on both offense and defense," Rogers said. "We would either hit the ball and then make errors in the field or not hit at all and have an error free game."
She also noted that she must keep her batting average more consistent so the team can become a bigger force in the GNAC conference.  Rogers started off the season strong, but then fell into a mini slump, although she still managed to end the season with a .377 average.  She believes that the team can bounce back next season and experience more on-the-field success.
Believe it or not, Rogers is even talking about adding a third sport to her already impressive repertoire.
"I have always been interested in volleyball because my high school never offered it and all we had was intramural volleyball," she said. "I don't know the game very well, but I'd definitely be willing to learn!"
Leave a Comment