Rams baseball skipper earns 400th victory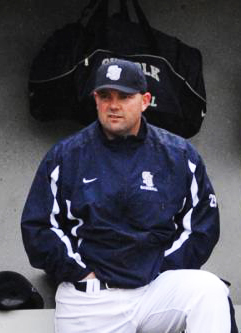 Another Great Northeast Athletic Conference baseball season has come and gone, and one thing continues to remain consistent in Suffolk University head coach Cary McConnell's tenure, as the Rams were once again in the conference title hunt.
McConnell's team finished the season with a trip to the GNAC finals and ECAC tournament semi-finals. The team certainly had its ups and downs, including a tough slump from the end of March leading into the beginning of April, but this squad was able to get back on track and heated up as the season went on. One of the main reasons coach McConnell feels his team was able to achieve so much this year was the leadership from his upperclassmen.
"If you look at the season early on in terms of win streak, there were times where the team could've packed it in, but [we] had such strong leadership from within that we played our best baseball down the stretch," McConnell said.
It would be during this stretch of playing their best baseball that the team would help their head coach win his 400th with the Rams against conference rival Johnson and Wales University. When asked what his feelings about achieving this accomplishment, McConnell replied jokingly, "That I am getting old truthfully, so it means very little to me."
Under the tutelage of McConnell, the baseball team has won the GNAC championship four times, one Eastern College Atletic Conference tournament championship and finished first within their respective conference five times. They also set the single season win record of 38 during his close to 15 seasons as the head coach.
The skipper again refused to take much of the credit in terms of the success of the program during his time with Suffolk.
"I think we have been fortunate to attract quality student-athletes who bought into the team goals we are trying to achieve," McConnell said.
Some of the current players who have certainly bought into coach McConnell's goals are senior pitcher Alex Torres and freshman batting stand outs Jake Cintolo and Devan Jones. Torres led the team in wins, complete games and strike-outs this past season and will be missed in the Rams rotation next season.
"Clearly we will miss having [Torres] and all the other senior pitchers. They gave us an outstanding year and a chance to win every time they took the ball," McConnell said of the graduating members of his pitching staff.
Despite losing some quality hurlers, the head coach stated that he has the utmost confidence in his returning pitchers.
"With the return of starters Mitch Monke, Tim Belanger and Matt Sliney, whose level will progress and the influx of some new talent we hope to fill the gap."
As far as next year's offense go, look to All-New England second team players Jake Cintolo and Devan Jones, who look to play another big part in the team's offensive output.
"We expect them to continue to work hard, compete, enjoy their experience and help us win," McConnell said. "If they continue to focus on the process then they are just scratching the surface of what they and the team can accomplish."
Coach McConnell is looking forward to the next season of Suffolk baseball and his 16th year with the program, explaining that one of the main reasons that he looks forward to every season is the players.
"The interaction with the players daily and seeing them grow and mature as players and men is rewarding," McConnell said. "As proud as we are of their success on the field, we are equally proud of their success off the field."
When asked why he continues to stay with Suffolk and not pursue other coaching options, McConnell thinks back to his father for advice.
"I often think back to the advice my dad gave me growing up, 'find a job you are excited to go to on Monday morning,'" McConnell said. "Suffolk is that to me and it's become my home and a job I look forward to everyday."