Slap in the face for Planned Parenthood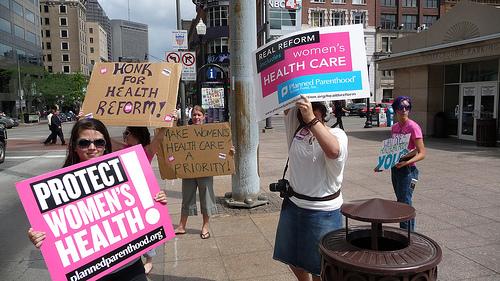 Republican Mike Pence pushed a bill through the House of Representatives that would end federal funding for Planned Parenthood. The premise behind the bill, according to Pence, is that the organization has a "pattern of apparent fraud and abuse." The Indiana representative did not need a lengthy proposal in order to convince the conservative-dominated House; yet, the real impetus for the bill is obvious.
What Pence meant by "fraud and abuse" was that Planned Parenthood has duped the American public.  According to some right-wingers, Planned Parenthood's true mission is to provide abortion services as a form of birth control instead of their proclaimed mission of simply providing overall health services for women.
Of course, this is a fallacy. Planned Parenthood offers many resources for women which include screenings for breast, cervical, and ovarian cancers; cancer prevention; menopause and menstruation services; female infertility; birth control; community outreach; education; and testing for sexually-transmitted diseases (which is also available for men).
Abortions are only a small part of what they do; not their raison d'être.  They are not pro-abortion.  Planned Parenthood believes that it is ultimately up to the individual woman to decide what is right for her.  Aside from facilitating abortions, they offer the utility of exploring other options as well, which include adoption and parenting.
Opponents cite this is an attack on women, and this bill has the potential to set women's rights back 60 years. I would not take it that far. We are not going back to the Stone Age simply because a health care institution lost some funding. It is, however, a slap in the face.
The good news is Planned Parenthood receives roughly 15 percent of its funding through the federal government. So in the event that the bill does pass the Senate, and Obama, regional locations of Planned Parenthood have already announced they will continue to operate, although in a reduced capacity.
Of course, the likely-hood of this bill passing the Democrat-majority Senate and becoming law is slim-to-none. But, the proposal speaks of an increasing trend in American society that is bent on imposing an agenda of far-right conservatism.
One of the main crusaders against Planned Parenthood is Life Decisions International, a group whose purpose is to eradicate Planned Parenthood's "agenda of death" outright. Even though LDI contends that violence perpetrated by members of the Pro-Life Movement is morally deplorable, they don't exactly deny it. Instead, they simply state that anyone who disagrees with their moral standard is free to withhold contributing to LDI financially.
Seeing as how Planned Parenthood is largely supported by private donations, LDI's main task is to boycott the businesses and individuals whose monetary contributions allow Planned Parenthood to continue. Many actors, musicians and major corporations offer support, yet through LDI's efforts, some 270 corporations have ceased donations towards Planned Parenthood to the tune of $40 million. There are still many large corporations that back Planned Parenthood, so it is likely the organization will continue on, regardless of Title X status.
The fact that Pro-Life organizations such as LDI describe Planned Parenthood as having a death-agenda is evidence that parts of our society are attempting to take a step backward. As mentioned, Planned Parenthood offers many services for woman, including options for parenthood and adoption. To assert that this is Planned Parenthood's main focus is plain wrong and a disservice to the American people.
Leave a Comment