Shizzlr knows what's up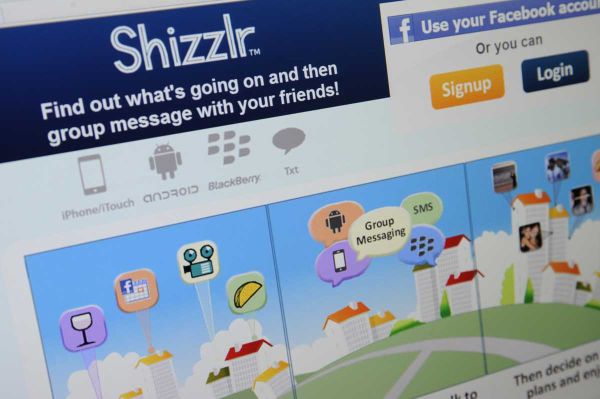 Shizzlr is an up-and-coming social network intended to change the way students socialize around college campuses. Created by Nick Jaensch and Keith Bessete, two MBA graduate students from the University of Connecticut, the social planning website answer the anticipated "what's going on?" for college students around the country. It allows students to see where in their area that their friends and others are planning to go for the night. It lists local events and popular destinations so that users have a wide range of choices.
"We have all of the listed towns in the United States," said Jaensch. "We add bars, restaurants, familiar places, and dorms on campus."
To find out what's up, users can add schools and towns to view public events.
The creators compiled a large start up sum of $350,000 to develop the website and cover other costs. In September of last year, they raised $200,000 from friends and family, and in December received $150,000 from Connecticut Innovations, a venture investment agency. The sum keeps Jaensch and Bessette paid during this entrepreneurial venture, maintains the website and provides money to the personnel they have hired. They currently employ 10 interns and cover all texting costs and tech upgrades for their developers.
Shizzlr has already developed applications for the iPhone, Android, and Blackberry, and the interns promote the site by making flyers, blasting emails, and handing out wristbands. They also give out T-shirts and set up interviews to get the word out about Shizzlr.
But what does it provide that Facebook doesn't already?
When they returned to school in 2008, Jaensch and Bessette learned how people could solve specific problems that large social networks can't solve. They decided to center their scheme around the question of "what's going on?" because they found it to be a question many spend an hour or more seeking an answer.
Bessette built the first website between the first and second years of their MBA program
This incubator program allowed them to find out what it took to answer what's going on.
"When Shizzlr first started, the whole idea was if we could get 30 percent of the campus to say where they're going, we could aggregate crowd count," said Jaensch.
Both Jaensch and Bessette know that a lot of people love to see the number of people going to a particular location; Shizzlr allows users to see that crowd count.
"It's kind of like FourSquare for the future," said Jaensch. However, they didn't believe that kind of network had enough value for its users, so they added other features.
Shizzlr aggregates events, adds the conversation aspect, and incorporates the importance of privacy so only selected friends may join; Jaensch stressed this importance.
"It's different from Facebook events because it's private," he said. "It's the friends you're actually willing to call; it's those people you wanna add."
There was an article written by the Associated Press earlier this month, and at that time there were about 1,000 users. That article was picked up by 350 news syndicates, and now there are about 2,500 users.
"The site blew up for four or five days," commented Jaensch. "We hope that we can hit 40,000 to 50,000 users by the end of May. It's a huge challenge, but if we can hit that, it's a huge milestone and a boost of confidence."
Some may wonder Shizzlr's advantage is over texting.
"In regards to texting, we think it's a lot easier to group text," Jaensch said. "But instead of sending out five texts and getting five back, you send out one and you keep everyone in the loop."
Users can opt who they want to include in their plans. Everyone is involved in a group message, stays up-to-date and can give input.
The advantage of the website is that users can easily choose your friends. On the phone application, phone contacts may be selected. Merging Facebook friends with the network makes it easier to add friends.
Jaensch said that although he holds a marketing background and Bessette has a background in engineering, they evenly share the workload.
"There is so much to get done. We end up wearing whatever hats we need to," Jaensch said. "Whatever needs to get done, both of us can take care of it. We can start defining new roles now with our interns."
"We hope it encourages more students to try entrepreneurial ventures," he said. "Don't be afraid to be different than the norm. Even if we don't have success, we have a good story. Hopefully it encourages people to break that norm. They don't have to follow that normal template of 'internships will get you a better job.'"
"Half the reason I went back to grad school was because I never knew what I wanted to do," he said. "Keep your eyes open to every opportunity."
Shizzlr is not a Facebook competitor. Rather, it's a social network that complements its specific features. Shizzlr makes it easier for college students to find out what the popular place is on a particular evening, and provides them with an easy way to privately connect with their friends and make plans.
"We're definitely on to something; people are using it," said Jaensch. "We have a long way to go, and we're trying to build a community to bear with us."
View Comments (1)