Article By: Matt Altieri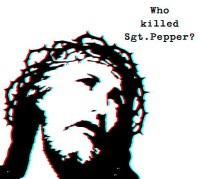 If you've seen Ondi Timoner's Dig! (Interloper Films, 2004), you saw a much different Brian Jonestown Massacre than today's band.
Gone is the Rolling Stones-esque 60s revival ideal within the music that was produced on albums like Take It From The Man! (Bomp! Records, 1996) and …And This Is Our Music (TeePee Records, 2003). The newest album, Who Killed Sgt. Pepper? (A Records, 2010) sounds more like My Bloody Underground, (A Records, 2008) the last full album release from Anton Newcombe, guitarist, singer, and overall mastermind of the Brian Jonestown Massacre.
Newcombe described My Bloody Underground as 'drug music' in an interview with Zoom-In.com, and Sgt. Pepper does not differ much from the sounds that Anton produced in 2008.
Perhaps the most interesting thing about this release is that Newcombe has leaked all of the songs onto YouTube and is streaming them via his MySpace blog in an incredibly unconventional manner of releasing music. Through October and November, all 13 new songs appeared on YouTube. All thirteen songs contain a distinct sound that is a complete departure from any work that the band has done so far.
Songs like "This is the One Thing We Did Not Want to Have Happen," which sounds eerily similar Joy Division's "She Lost Control," have been streaming on the band's MySpace and present a dark, digitalized version of The Brain Jonestown Massacre: a powerful, fast paced drum beat backed by a droning background chorus of "ahhhs" is complimented by Newcombe's vocals and a static-filled electronic beat.
Songs like "Let's Go Fucking Mental" and "Someplace Else Unknown" present an angrier side of the band with more electronic drum beats and aggressive lyrics, while songs like "Detka! Detka! Detka!"  present a lighter, happier sound with hollow, resonating notes from a guitar (a sound which is barley heard on the album.)
Sgt. Pepper will not only appeal to American ears but Russian, German and Icelandic listeners as well. "The Heavy Knife (ÞUNGUR HNÍFUR)" is completely in Icelandic and the chant "Wir mögen zur Partei" ("We like to party" in German) starts the bouncy "Detka! Detka! Detka!"
Newcombe had been traveling in Germany, the United Kingdom and Iceland while making this album, so the international influence is another excellent new touch to the evolving Brian Jonestown Massacre.
It may be an acquired taste for long-time listeners, but Who Killed Sgt. Pepper? truly shows a beautiful growth of The Brain Jonestown Massacre. Anton Newcombe prevails musically by showing us that he isn't a static artist; he can play music that doesn't sound anything like he produced in the 1990s or early 2000s, but what he creates pushes the comfortable boundaries that the 60s revival sound created, while still making us feel the raw emotions that take us from happy to angry to stoned to sober and back again.
"Who Killed Sgt. Pepper?" will be released in record stores on Jan. 1, 2010.