'You' Season 4 Part 1: Not the Joe Goldberg viewers are used to
Warning: This review contains mild spoilers
Netflix's hit series "You" released the first part of its long-awaited fourth season on Feb. 9. Since 2018, serial killer Joe Goldberg, played by Penn Badgley, has been dazzling hearts and boggling minds. Badgley is known for his charming looks and sinister acting and there is an abundance of both in the newest episodes. However, they fall short compared to the thrilling seasons that have premiered before them.
"You" is based on a series of books by Caroline Kepnes — which if you haven't read before, are a must-read — but by season three of the show, the plot has fallen far from the books. Season four is no different, and one cannot help but wonder if the writers stuck with Kepnes' original ideas, the show might not have faltered.
Season four finds Goldberg in London using a new name, Jonathan Moore, and swearing off his old habits — no stalking, no killing and no falling in love. He gets a job as a professor, and for a short time, it seems like Goldberg might finally live a quiet life.
That is, of course, until he wakes up one day after a night of partying with British socialites to find his neighbor on his dining room table with a knife in his chest. Shortly after, Goldberg starts getting anonymous text messages from someone close by, leading him to believe he's been framed for the murder.
Thus, the show becomes a typical "whodunnit." Viewers watch Goldberg as an outcast among a group of Britain's rich and famous as he tries to figure out who's the killer. Goldberg's stalker knows about his past and that he's hiding behind a fake identity here in London. The stalker messages him constantly, leaving Goldberg paranoid that the truth will get out to others and he'll be blamed for the recent murders.
It's funny to see how Goldberg thinks he's a good person and morally above the killer/stalker despite all he's done in the past.
Somehow, this season makes Goldberg look like a good person (aside from a few typical Joe moments). 
There's a particular scene with Goldberg's neighbor and this season's semi-love interest Kate where he gets vulnerable with her about his past and seems genuinely regretful about what he's done. Viewers might get whiplash from this complete attitude change he has. Killing and stalking people? Who would ever do that?!
Some might forget about what you've done, Joe, but I have not.
The truth is, "You" is a lot less thrilling without Goldberg in the driver's seat. In the past seasons, each murder had some kind of motive. Some were expected, and others took viewers completely by surprise. Now, people are being murdered because they're rich and famous and Goldberg just walks into a room and finds them dead.
Goldberg's neighbor Kate becomes his partner in crime of sorts, which makes the already-cringe season even cheesier. Overall, season four takes the show veering off the road of a psychological thriller and down the path of a slow, dry murder mystery.
There are far fewer sex scenes than in previous seasons — a request from Penn Badgley himself — and the few that are included are much less graphic.
Part one didn't even end with an exciting cliffhanger — nothing to make the viewers wish the release of the second half wasn't a month away. I remember watching the first part of "Stranger Things" season four and wondering how I would survive until the next part came out. 
I wasn't excited about part two until the official "You" Twitter account teased that Goldberg's ex-wife, Love, who was last seen unresponsive as their house went up in flames at the end of season three, might be returning. Fingers crossed that this surprise return will make part two more interesting than the first few episodes.
At the end of part one, viewers find out who Goldberg's stalker is. It ends up being what's basically a Joe Goldberg superfan, and they want to team up with Goldberg to murder more of London's elite. Even more cringe — a Goldberg FAN? 
Penn Badgley is a stellar actor, but "You" season four is nothing compared to the gripping action that took place in seasons two and three. It's just not as entertaining if Goldberg isn't at the scene of the crime, and this time, the show has taken him and made him the victim, a complete 180 from the previous seasons and a major reason why they were so engaging.
"You" season four part one is now streaming on Netflix.
Follow Grace on Twitter @GraceM123456


Leave a Comment
About the Contributor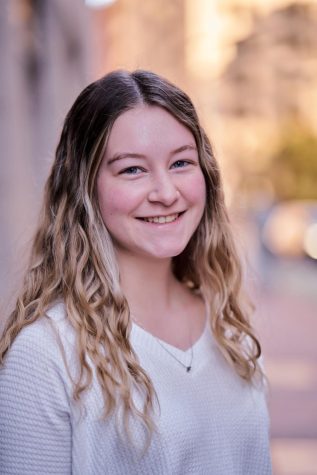 Grace MacDonald, Graduate Copy Editor | she/her
Grace is a graduate student from Seekonk, Massachusetts, majoring in public relations. Besides having a passion for writing, she also enjoys listening to Taylor Swift, watching movies, and exploring the city. She also loves to travel. After graduating, she plans to pursue a graduate degree in integrated marketing communication.
Follow Grace on Twitter
@GraceM123456