LeadHERship luncheon starts off Women's History Month
Suffolk University students and faculty celebrated the first day of Women's History month at a networking lunch by fostering connections through empowerment. 
As a video of Oprah played across a projector screen, the opportunity to speak with established members of Suffolk's staff and celebrate womanhood were just one of the intended effects of the event.  
The lunch, which was hosted by Suffolk Journey Program for female identifying students, was held in Sargent Hall's function room March 1. It utilized a rotating seating arrangement to encourage conversation between different majors and members of the faculty. 
Brenna Koppel, a sophomore pre-law major, led the event after being recommended by Suffolk's Journey Program. 
"We wanted to give the students and staff a chance to connect, because they're often on different planes," Koppel said. 
Koppel and her team had initially planned for the event to be in November 2021, but postponed it due to a low anticipated turnout. This month marked the first time it was held in two years due to the COVID-19 pandemic. 
According to Suffolk's website, The Journey is a four-year leadership experience built on Involvement, Service, Global Thinking, and Leadership. The program is designed to develop students' leadership skills throughout their collegiate career.
The networking event also served as a way to empower those within the Suffolk community. 
"Women are discriminated against in so many ways and it's important to empower each other," Koppel said. 
As women gathered during the meal's first course, students from a variety of majors were able to join in conversation about what the event meant to them and why they decided to attend. 
Senior Hannah Graves touched on the importance of finding a place within the Suffolk community. 
"As a senior and someone who transferred in, I thought it would be a good opportunity to connect to my campus before graduation," Graves said. 
When attendees switched tables again for the entree, new faces and opportunities to network emerged. 
"This is my first networking event, after a year of COVID I hadn't met many people on campus," said Catherine Brennan, a senior at Suffolk.
Assistant Dean of Students Amanda McGrath was excited to be not only at an in person event, but one where masks could be lowered. 
"Getting out and being in the community is humungous, being with a group of students unmasked right now is incredible. The opportunity to sit with you all is amazing and for students, it's critical," McGrath said. 
The event will be annual and will continue to not only connect students and faculty, but celebrate those who identify as women and what that means within the confines of Suffolk, said Koppel. 
Leave a Comment
About the Contributor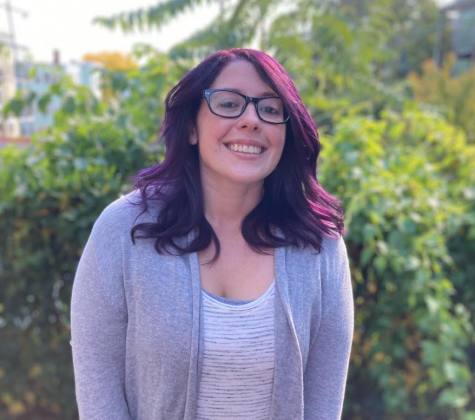 Ashley Fairchild, Asst. Copy Editor | she/her
Ashley
is a senior majoring in print/web Journalism. Outside of Suffolk, she can typically still be found with her nose in a book and her hand wrapped around a coffee mug. She enjoys lifting weights, finding new cafes and most importantly, playing with her dog, Pepper.
Follow Ashley on Twitter @AshleyFairchi14