'House of Gucci' combines romance and chaos
In the film adaption of Sara Gay Forden's book "House of Gucci," filmmakers took their audience right into the heart of the true, and tragic, love story between less-than-wealthy Patrizia Reggiani, and the heir of the Gucci family dystanty, Maurizio Gucci. 
The ultimately murderous plot is thrilling to watch, evoking a balance of feelings between frustration and desire. The extravagant drama and almost ridiculous presentation was only fitting for such a brand. 
Set in 1980s Milan, "House of Gucci" reveals an intimate, inside look into the family behind the luxury brand and imitates Italian culture through scenes of smoking cigarettes and drinking espresso, with unsaturated browns and gloomy visuals excluding Patrizia's signature color of red.
Interestingly, the intense energy of the chaotic plot, dramatic overtaking and eventual loss of the fashion empire was matched by the romance between Patrizia, played by Oscar-nominated Lady Gaga, and Maurizio, played by award-winning Adam Driver. Viewers could feel the uncomfortable chemistry of their characters through the screen. 
Their story began with Patrizia somewhat sneakily chasing Maurizio around the city after they met at a party in true '70s Italian style. Playfully writing her number in lipstick on his window led to marriage and a daughter between the classic trope of an outgoing girl and shy boy. 
Maurizio disowned his father (Jeremy Irons) before they wed, after the older Gucci disapproved of Patrizia's seemingly gold-digging motives. Driven by Maurizio's unconditional love, they started a life together while they both worked for her father's small truck company, away from the Gucci name. 
Through persistence, and arguably crazy behavior, Patrizia used their love to manipulate Maurizio into taking part in his family's legacy, ultimately gaining full control of the brand. She nudged her husband to reluctantly reconnect with his Uncle Aldo (Al Pacino) and trick his ridiculous cousin Rodlfo (Jared Leto, in a horrifying costume). 
A passionate romance unexpectedly dwindled, swept away by greed and the ugly desire for more. While scheming for an excessively wealthy future, Patrizia and her daughter were abandoned by the then-dominant character played by Driver. Her motives quickly shifted to revenge, in which she hired a hitman to kill her ex-husband. The Gucci family lost their brand, their luxury and their traitor of an heir while Patrizia pled guilty for murder.
Driver and Gaga's talented character progression made the movie. Patrizia started as a doe-eyed, go-getter with an apparent heart of gold, swooning over a reserved, sweet Maurizio. The innocence and playfulness of the relationship, which can only be explained by comparing it to any Nicolas Sparks movie montage, quickly diminished. Under the direction of Ridley Scott, the story turns green. While Patrizia is the criminal, money is the real villain in this film.
As her character got a taste of his world of materialism and power, Gaga flipped the switch on her character. Meanwhile, Maurizio's family traits took over, his compassion and reservation dying with his feelings for Patrizia. Blatant greed clearly destroyed a potentially beautiful thing. After he stripped her of the life she unhealthily craved, Patrizia was driven to such madness that she hired a hitman.
Gaga fully embodies her character, and it translated well through the screen. The audience knows Patrizia, understands her and can feel what she feels. She ran blind for money, and became obsessed with being a part of the family she married into.
The film was unusually long, running just over two and a half hours. Each moment was intentionally drawn out and essential to the progression of the plot. That being said, the movie could have done without cousin Rodlfo's unflattering scenes that added little to the story.
The approach to the death of a romance and the evil within the luxury industry shines through the screenwriting, acting and visuals. It is overwhelming for the viewer, and makes them wonder if wealth is as desirable as it appears to be.
Follow Julia on Twitter @juliaahaesy.
Leave a Comment
About the Writer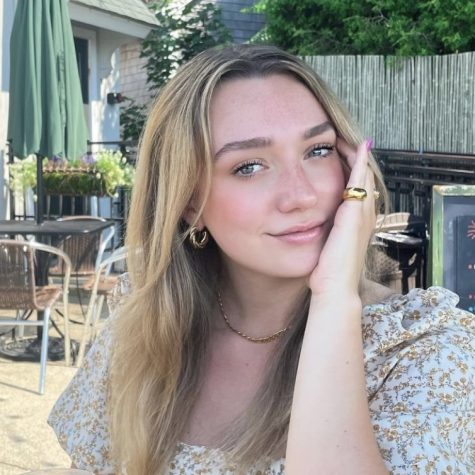 Julia Ahaesy, Opinion Editor, Social Media Manager | she/her
Julia is a senior studying public relations at Suffolk University. Along with her roles of co-opinion editor and co-social media editor at The Suffolk Journal, she writes weekly for her column,
Student and the City
.
On the few occasions she is not writing, you can find her buried in the latest issue of Vogue, wandering the city, or drinking too much coffee. Native to Massachusetts, she will be joining the Massachusetts Air National Guard after graduation. She is currently studying abroad in London, England. Julia hopes to continue traveling as she explores the arts and culture industries in her future.
Follow Julia on Twitter
@juliaahaesy
Email her at
[email protected]