'Red Rocket' is Sean Baker's surprising return to A24
On Friday, Sean Baker's follow up to "The Florida Project" (2017) arrives on the big screen in the form of "Red Rocket." 
The two-hour film yielded a complicated response and left viewers deciding if they should praise it or be confused. Regardless, it was clear that Baker has continued to craft captivating narratives, focused on Americans living at society's fringes.
"Red Rocket" follows ex-porn star Mikey Saber (Simon Rex) as he returns to Texas to stay with his estranged wife and mother-in-law, and his arrival disrupts the local community. 
Mikey arrives and after failing to secure a job, he begins to sell weed for drug suppliers Leondria and her daughter June. Lingering around as a small town deadbeat, Mikey spends his time discussing porn with his fellow neighbor, attending a strip club, engaging in stolen valor and looking for a break back into the industry. 
Everything changes when at a local donut shop, Mikey meets 17-year-old Strawberry (Suzanna Son), who Mikey then begins a relationship with, and sees as his ticket back into the industry. 
This relationship soon becomes the major focus of the plot, while Baker continues to paint the monotonous, toxic excessiveness of Mikey's lifestyle.  
However, one massive incident in the latter half of the film shakes up Mikey's life, and his overstayed welcome in town begins to unthread. 
"Red Rocket" left viewers divided. There are some reservations about the plot's intense focus on the mostly sexual relationship with Strawberry, and the constant vulgar discussions of porn. 
These topics are depicted in excess and with little moral resolve, usually under the guise of engaging comedy. With some time away from the film, it becomes clear that the excess of the film is done for a reason, but it is still uncomfortable and at times problematic.
At the same time, Baker's direction, the expansive 16mm cinematography of Drew Daniels and Rex's dramatic breakout performance are all noteworthy; they were heavily praised at the Cannes Film Festival this summer. 
The film's images, composition with simple spaces and the grainy look of film stock all bring the story to life in a unique visual language. 
Rex, who got his big break in the 1990s on MTV and in the "Scary Movie" series, has taken on a career-defining role, which will no doubt re-invite him to Hollywood.
Baker has also taken a drastic shift from the material in "The Florida Project," but still manages to build his career's pervasive theme of indie Americana. 
"Red Rocket" is a complicated film, concurrently beautiful and disgusting, and always pushing between morality and immorality. The film is divisive, which is perhaps a reflection of the Trump-era America that Baker makes note of in the film. 
Whether you enjoy "Red Rocket" or find it to be a self-absorbed mess, viewers will leave the theater singing the film's repeated anthem: NSYNC's "Bye Bye Bye."
Follow Alec on Twitter @alec_maskell.
Leave a Comment
About the Writer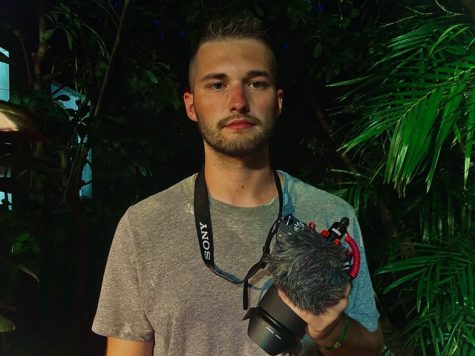 Alec Maskell, Staff Writer | he/him
Alec is a senior media & film major and creative writing minor from Old Lyme, Connecticut. Alec joined The Journal in Fall of 2021, and has focused his writing on film reviews. Alec is intensely passionate about everything relating to film, and he is also a musician, as a guitarist and alto-saxophonist. Alec's career goals are to become a screenwriter/director, and to continue working in the field of journalism.