Reflecting on 9/11: A Conversation with My Dad
I was born six months after the September 11th terrorist attacks, so I have never known a world other than the post-9/11 one. However, the significance of 9/11 has never been lost on me since my dad — who is a firefighter in East Providence, RI, — went to New York City to assist in the recovery efforts a mere 48 hours after the attack.
"Being in New York City after the terror attacks was unforgettable. It was almost overwhelming," my dad said during a conversation I had with him this week. "There was so much devastation it would have been easy to think, 'This place will never get back to normal.'"
He described all of his senses being overloaded as he and other first responders laid eyes on the abandoned city streets, piles of rubble and ruin of the twin towers.
"It was weird to see the military flying combat patrols over the site of the World Trade Center while recovery operations were happening," he said. "It made me wonder, 'Why are they patrolling the skies? Do they know something we don't?'"
He said he felt safe that the military was patrolling, but also unsafe because they were there, two thoughts that don't typically coexist, but under those circumstances were weighing heavily.
Each anniversary of 9/11 is always a time of reflection for our family. It can often be frightening to have a parent who is a first responder, knowing that every time they go to work they are almost always putting themselves in danger.
"I think about how lucky I am to have the life that I have when so many others had their lives ended in an instant," my dad said. "We are certainly past the point where many people in our country weren't yet born or have no memory of that day. This makes it even more important for others to keep telling the stories, and to keep the memories of so many of the victims going."
As a family, we typically spend the days leading up to the 9/11 anniversary watching documentaries about the attacks, most notably one by Jules and Gédéon Naudet called 9/11, which we have watched at least a dozen times.
Jules and Gédéon Naudet happened to be filming a documentary on the Engine 7, Ladder 1 firehouse in Lower Manhattan at the time of the attacks, and captured some of the clearest, most raw footage of the incident and aftermath, which was later turned into a documentary.
Since 9/11, the site of the attacks has been turned into a memorial for the victims and the event. I was humbled to have the opportunity to visit it, as well as the museum that's there, on a class trip in eighth grade.
My dad has visited the memorial grounds, but has not yet been able to go to the museum.
"I felt a bit overwhelmed," he recalled of his visit. "A flood of memories came back. The neat, clean and very nice memorial did not seem possible when I remember what the site looked like after the attacks. I have heard so many stories about some of the victims that it is nice to see their names on the memorial."
In the 20 years that have come and gone since the attacks, my dad said that he has never seen a stronger sense of unity in our nation than the few years that followed the devastating day.
With each year that passes, and as we become further and further removed from that day, it is important to continue to tell the stories of 9/11, to memorialize those that died and to pass their stories along so that we as a nation never forget.
Follow Grace on Twitter @GraceM123456.
About the Contributor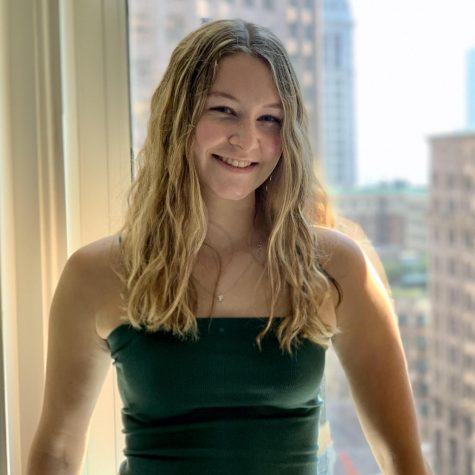 Grace MacDonald, Asst. Copy Editor | she/her
Grace is a sophomore from Seekonk, Massachusetts, majoring in public relations. Besides having a passion for writing, she also enjoys listening to Taylor Swift, watching movies, and exploring the city. She also loves to travel. After graduating, she wants to work for a PR firm or in social media management.
Follow Grace on Twitter
@GraceM123456