"Blak Fatigue" event creates safe space to speak truths
Panelists shared their stories and struggles with the mental toll racism takes on them during a Feb. 24 Dim Events networking event for college students.
According to a recent article in Greater Good Magazine, Black fatigue is a reality for many BIPOC individuals. It comes from having to constantly be on guard, consistently explain or defend yourself and culture or needing to make the white people around you feel comfortable with your race.
This event, titled "Blak Fatigue," aimed to give attendees a space to talk about issues that arise from this fatigue.
Dim Events, founded in 2014 by Momodou N'jie, hosts a series of online discussions catered to college students hoping to become active allies in the Black community, and networking events for students to connect with one another as well as with mentors.
"[We want to] bring a stronger voice to the Black student body and to have the conversation on the fatigue when your colleges come to you asking you what they can do," said N'jie.
At the Feb. 24 Zoom event, panelists spoke about the fatigue they face in the workplace, as well as their own personal experiences with racism.
"How do you deal with the fatigue of being the lone one talking to your coworkers about race?" asked Adarious Payton, a co-host of the event.
The panelists were also asked to comment on how they navigate a primarily white workspace.
Panelist Tatiana Lampley, a senior production accountant, spoke about how her company decided to create a diversity inclusion group. They chose her to lead the group, a move she felt she was unqualified for, and felt like she was only chosen because of her race. Though she struggled with this, she ultimately decided to take on the role.
"There needed to be change at the network," said Lampley. "I had to look at it as if in a year, if there are no changes made, I'll regret not making a difference. You may not be able to speak for everyone but use it for who you can. Use your voice even when it shakes."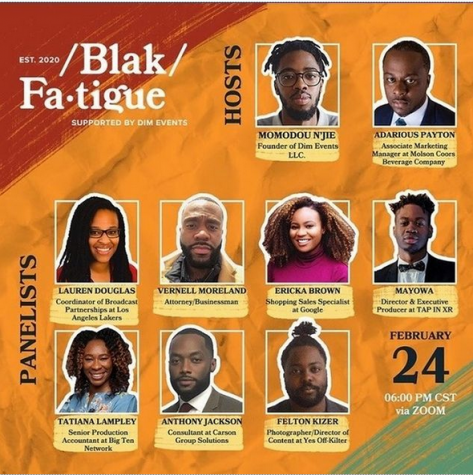 Artist Felton Kizer also spoke of how he views collaborating with companies.
"I'm not centering you. I'm not centering whiteness, and if you want to work with me, you need to not center whiteness," Kizer said. "I'll collaborate with anyone, but we need to be on the same page."
Panelist Anthony Jackson spoke of how mental health and therapy is still heavily stigmatized, but something that everyone should invest in.
"I am unapologetically Black, and I cannot moderate that for anyone," said Jackson.
The panelists agreed that BIPOC have to show up to work and prove that their colleagues need to take them seriously.
"As a Black entrepreneur, you don't know you can do it until you see it — until you're in the room," said Mayowa Arogundade, founder at TAP IN XR. "Be grateful for the opportunity, not a lot of people get to do what they love or chase their dreams."
As the discussion went on, the panelists remembered the moments where they best understood what it meant to be Black.
Payton told a story of classmates in the schoolyard not wanting to play with him. It took his grandmother telling him that it was because of the color of his skin for him to recognize their exclusion for what it was.
Lampley said her white friend assumed she would get shot because they were in a "Black neighborhood," despite them being in church.
"In art school, all the questions and conversations about my work were always about the subjects being Black, but never about the photo itself. They were always reaching for drama," said Kizer.
When in school, as a straight-A student on the honor roll, Arogundade was only seen as a Black student there to be on the basketball team.
"You feel bad for the ignorance, because it's not the kids, it's the parents. Being Black, you don't grow up learning to look down on other people," said Arogundade.
Blak Fatigue will be hosting more events in conjunction with Women's History Month in March. Sign up here. For more information about internships in the company, as interns run these events, click here.
Follow Ashley on Twitter @Ashleyfairchi14
Leave a Comment
About the Contributor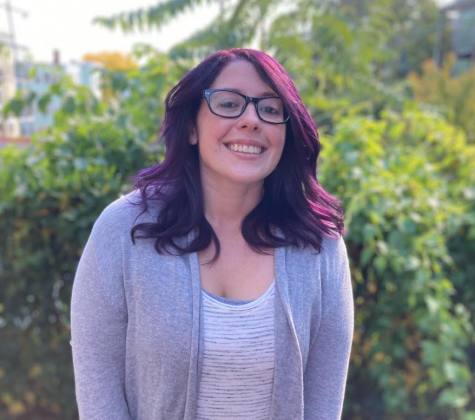 Ashley Fairchild, Asst. Copy Editor | she/her
Ashley
is a senior majoring in print/web Journalism. Outside of Suffolk, she can typically still be found with her nose in a book and her hand wrapped around a coffee mug. She enjoys lifting weights, finding new cafes and most importantly, playing with her dog, Pepper.
Follow Ashley on Twitter @AshleyFairchi14