The obsession with period dramas during a pandemic
In a year encapsulated by technology, people found solace in the romantic world of ball gowns, crowns and courts. Social media platforms are overrun with people of all ages commenting on their dreams to wear big, gorgeous ballgowns and dance with a duke. 
In the midst of the pandemic, society found the last year to be filled with stress, anxiety and hopelessness. People developed coping mechanisms to help them get through these hard days and find the motivation to keep moving. 
Wendy Kennedy, a Suffolk University psychology professor, defined coping mechanisms as "our regulatory process to self-regulate through stresses." 
"[Coping mechanisms] start from birth, because we're hit with stressors immediately from birth," Kennedy said. 
One key type of coping mechanism that Kennedy explained is escapism, or the act of escaping reality by emerging yourself in a fictional world. This is where the romantic dramas of "Bridgerton," "The Crown," "Reign" and more shows that are based on the past come into play. 
At the end of every great romance or epic adventure, there is a moment of "happily ever after." From fairytales and science fiction to historical memoirs, the climax concludes with a relieving moment of satisfaction. 
Fictional TV shows are a reminder of this ending. A reassurance that, as Kennedy said, "humanity will win out." 
"In reading, what I have learned and seen, is the resilience of community and individuals in service of others who are being dehumanized," Kennedy said, explaining the comfort she finds in historical based novels. 
This is why historical dramas had and continue to have such a draw in popularity throughout the pandemic. COVID-19 is a moment that will go down in history books, much like both World Wars or Queen Elizabeth II's reign. We choose to watch these dramas based on history because we know they usually have a happy ending.

After wars ended, or the prince took the throne, things kept going. Life moved on, children were born and there was a time when the worst was no longer a reality.
People find solace in the character arc of fictional people, and draw the life lessons into their own reality. 
Christina Reid, a freshman at Suffolk just finished the show "The Queen's Gambit," a story about a female chess champion in the 1980s. She said the show influenced her in multiple ways. 
"When it comes to influencing, it's about not giving up," Reid said. "If you give up on anything, you will not succeed. We are not all perfect, we all have our abilities, but at the end of the day we're all human."
Coping mechanisms give people the strength to not give up, and to keep going through their life even if things are not perfect. 
Entertainment centered around a time period before modern-day technology is incredibly appealing right now. Specifically because it can feel like technology rules our every moment. 
During the reality of Zoom, we attend meetings, classes, dates and family gatherings over a laptop screen. In the 19th century, when "Bridgerton" was based, there were no laptop screens. Conversations happened through handwritten letters, dates were attended at grand balls and family gatherings occurred around a large dining table where condescending comments were hidden in the phrase "pass the peas." 
Characters in these shows get to disregard social distancing because that isn't a part of their reality; something we still aren't able to say for ourselves. 
But despite this, both Reid and Kennedy said that they would not go back to the time period of their interests. 
"As a Black, African American person I wouldn't have chosen that [1960s] time period to live in. Being a woman back then, no matter what race you are; they were always suppressed and under appreciated," Reid said about 'The Queen's Gambit.'  "It was good to see this character who had determination, and wasn't going to be pushed around by men. She walked in and she beat them all." 
TV shows based in the past reassure the audience that these tough life challenges do pass, that people do get through them and the characters do find their happily ever after. 
"Humanity will win out," Kennedy said. 
Follow Alida on Twitter @AlidaBenoit.
Leave a Comment
About the Writer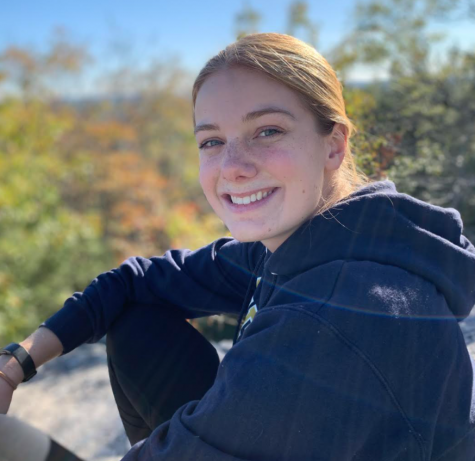 Alida Benoit, Asst. Arts & Culture Editor | she/her
Alida is a sophomore Graphic Design major from Brunswick, Maine. Her passions include reading, writing, listening to music, and playing with her dog, Sirius Black. After graduation, she hopes to work for a publishing company and travel the world.

Follow Alida on Twitter @AlidaBenoit