CSDI event informs student protesters of their rights
Students looking to know their rights as protesters attended a Zoom workshop by Suffolk University's Center for Student Diversity and Inclusion (CSDI) last week.
Hosted in coalition with the National Lawyers Guild (NLG), the event aimed to inform students of their rights as protestors, and what to expect in various protesting situations.
The keynote speakers were the co-chairs of the Massachusetts chapter of the NLG, Makis Antzovlatos and Josh Raisler Cohn.
The NLG was founded in 1937 as "an association of progressive lawyers and jurists who believed that they had a major role to play in the reconstruction of legal values to emphasize human rights over property rights," according to the guild website.
The organization is famous for its legal support for progressive movements from the Civil Rights movement of the 1950s and 60s to the modern-day Black Lives Matter (BLM) movement. NLG's "Mass Defense" fund has helped bail out and supports hundreds of anti-police brutality protestors this year alone.
"The National Lawyers Guild has a decades long history of representing progressive activists who are facing legal troubles," said Antzovlatos.
Antzovlatos said students should be aware of their intended level of participation before attending a protest in order to gauge the potential risks they may face while hitting the streets.
He told students about his color scale of intended involvement for attending a protest. The scale goes from red to green, in terms of risks one is willing to take. A student at a red level would be someone attending the event with very little willingness to be arrested. Orange is in the middle, and green is the level where you most expect you may be arrested at an event.
Antzovlatos also spoke to the resources that the NLG has at major protests. His co-chair, Cohn, displayed his green hat, which NLG members wear at protests to identify themselves to participants so they can help them. He also mentioned that there are usually trained EMT or medical professionals that wear red hats. Their purpose is to treat injuries or illnesses that occur as a result of potential violence or random injury at the protests.
Antzovlatos also spoke to students about interacting with police forces at protests, and how to keep oneself safe.
"Pay attention to police commands," said Antzoulatos. "Police usually give people the opportunity to leave before they arrest them. They don't have the capacity to arrest 1,000 people."
Antzovlatos also emphasized that "It is absolutely undeniably in your right to film the police."
The event wasn't all serious, however. Antzoulatos spoke of a favorite protesting incident of his that involved the famous El Salvadoran priest Oscar Romero.
Romero was a Roman Catholic priest who was a voice for peace during political unrest during the late 1970s in El Salvador and was murdered in 1980 while saying mass. Fourteen people were arrested in the United States at a protest against U.S. involvement in El Salvador, and they all told police their names were Oscar Romero, leading to the name being listed 14 times in the newspaper the next day.
Antzoulatos concluded his talk by speaking about the process of being arrested and detained by police. He emphasized to students that you have the right to be searched by a person of your own gender.
Sabrina Liu, Class of '23, commented on the relevance of the topic to the Suffolk community.
"There is a prevailing attitude that the police are untouchable, that they can do no wrong…" said Liu. "When we (protestors) push back, there are often dire consequences. It feels hopeless, dangerous, and useless but every step of the way, protestors need to know that their act of speaking out is protected and have unalienable rights."
Follow JD on Twitter @jdconte617
Leave a Comment
About the Contributor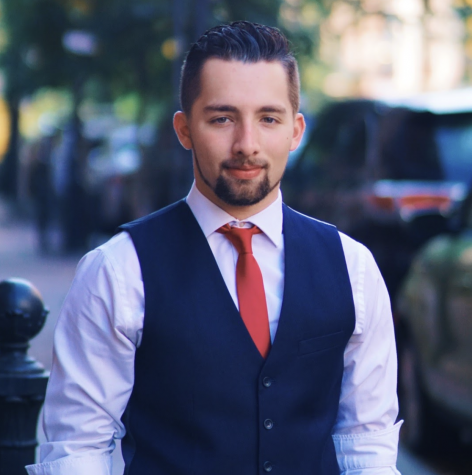 JD Conte, Sports Editor | he/him
JD is a senior from Wallingford, Conn. double majoring in political science and broadcast journalism. Aside from writing for the journal, JD can often be found in Studio 73 working on his broadcast skills. Off-campus JD can be found watching all the Boston and UCONN sports teams. He enjoys spending time with his family and friends in various spots around the city, especially in East Boston and the North End. After graduation JD hopes to work in a newsroom full-time or pursue a career in the sports industry.
Follow JD on Twitter
@jdconte617
Email him at
[email protected]