It's that time of year again. The decorated Suffolk men's baseball team is gearing up for the start of the 2020 season with their eyes set on redemption.
Following last year's heartbreaking loss to Johnson and Wales in the Great Northeast Athletic Conference (GNAC) tournament, the Rams aim to reload and capture their 5th conference championship title in six years.
Suffolk comes in adding pitchers Caleb Piwnicki and Michael James onto the roster following the departures of seven seniors.
Current team captain and shortstop Rich Gilbride alleviated concerns about possible inexperience.
"There are a lot of freshman pitchers but I do feel very confident in our pitching staff, they've been putting in a lot of work," said Gilbride. "I think the leadership on the pitching end is there, and I'm very confident that they're going to do what needs to be done."
"
There are a lot of freshman pitchers but I do feel very confident in our pitching staff, they've been putting in a lot of work.
— Rich Gilbride
As one of the leaders on the team, Gilbride feels that he needs to lead by example. He said he wants to come back stronger following the painful end of last season and make sure the Rams have the best chance at winning another championship.
"I'm here to help all those younger guys develop into players," said Gilbride. "Hopefully some of them can just jump into the lineup and contribute as a freshman because we're going to need it."
There's some new faces in the outfield this year. Offensive slugger Tim Brigham said he is excited about two incomers in particular.
"Luke Harder and Mark Birbiglia, two outfielders who've looked pretty good. Definitely great athletes," said Brigham. "They definitely should be able to give us some depth."
Last season, the team's outfielders were perpetrators of 116 RBI's; approximately half of the entire team total. With the addition of new players and veteran leadership, the team hopes to continue their past success this season.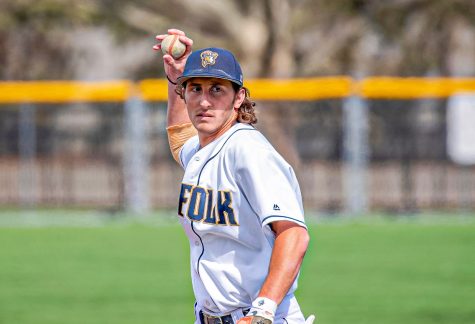 When it comes to how successful the Rams have been over the latter half of the decade, one can't look much further than their manager. Coach Anthony Del Prete has been the mastermind behind the team's prosperity. During his six seasons as the skipper, Suffolk has won the GNAC title five times and gone 73-15 against opposing conference teams.
"He's done a great job of telling us what we need to do and making sure that we're not messing around," Brigham said. "Sometimes that can come through as a little bit of tough love but at the end of the day that's kind of what we need as a team."
In terms of competition this year, it was unanimous among the team leaders that St. Joseph's and Johnson and Wales are potential roadblocks on Suffolk's return to glory. Last year, both teams vied for the top seed in the GNAC tournament but were unable to catch up to the Rams.
One important key to success in this upcoming season is for the Rams to continue their dominance at home. The Rams stand at 28-6 over the last three seasons when playing at East Boston Memorial Park.
When asked why the Rams are so great at home, pitcher Parker Browne alluded to the environment surrounding the field.
"It's definitely a shock to people that this is where we play," said Browne. "It's right in the middle of the city. We definitely try to use that to our advantage."
The Rams open up their season later this month on Feb. 28 against UMass Boston on the road. The team then travels to Florida to play in The RussMatt Central Florida Invitational about a week later. Their first home game is set for March 18 against Curry College.