Balancing extracurriculars while being a role model for Suffolk University is definitely a challenge, but it is something that junior business management and finance major, Blase Cormier does with ease.
Cormier has played baseball his whole life and decided to play at the collegiate level when he came to Suffolk. For the past two seasons he's been the team's first baseman.
"I have fun with my teammates and winning is our ultimate goal. I chose to play at Suffolk because I wanted to continue the game that I love, especially in the great program that they offer," said Cormier in an interview with The Suffolk Journal.
Cormier has played in a total of 42 games and holds a batting average of .326 with a total of 57 runs.
Off the field, Cormier is a role model for incoming students by being an orientation leader. This year, Cormier chose to be a part of Family Logistic Orientation, where he worked with families, oversaw the orientation leaders and worked behind the scenes to schedule and create events to ensure orientation ran smoothly.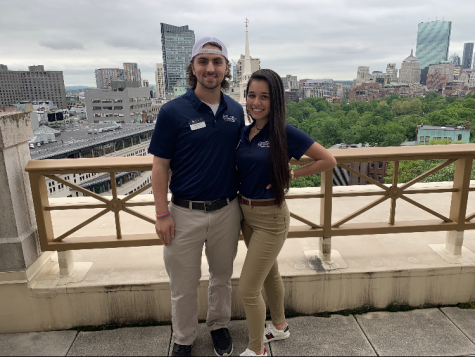 "A big part of me joining the Orientation team was when I was a freshman at orientation and I saw how willing the orientation leaders were to help me out and make the process of college so much easier, I love to help people and put myself out there," said Cormier.
Cormier's coach, Anthony J. Del Prete, associate director of athletics, has noticed how dedicated he has been not only to baseball, but also to being a leader.
"Blase has done a great job balancing his multiple roles at Suffolk by being a student-athlete and an orientation leader," said Del Prete in an interview with The Journal. "He shows great diligence with baseball in working to improve his skill and also excelling in the classroom. He has been a valuable resource for the baseball program as an orientation leader helping many of our recruits transition during the first year."
As a student-athlete, Cormier is a leader. Not only does he work hard to improve the team, but also to make the transition onto the team easier for others. As incoming students join the baseball team, Cormier steps up to guide them.
In order to balance being a collegiate athlete and a student leader, time management is essential for Cormier.
Although it is still early in the semester, Cormier is looking to put more on his nearly-full plate. He and a few friends are already working on plans for a boxing club they hope to have ready by the spring semester. Right now, Cormier and friends are in the process of finding local gyms with proper space in their price range.
"Even when I'm juggling the many things I do here at Suffolk, I ask myself, 'What else can I do with my time to help out?'" said Cormier. "It isn't a chore or a job, it is something I take on and enjoy doing."