Professor inspires student's passion for drones
Professor Scott Lussier visited Suffolk University's Center for Urban Ecology and Sustainability (CUES) hosted as part of their Lecture Series on Tuesday to discuss his work at Suffolk and his most recent efforts to get the university involved with drone technology.
As one of the CUES department instructors, Lussier has developed and taught Geographic Information Systems (GIS) courses, while also maintaining the GIS laboratory on campus. A certified and skilled drone pilot, Lussier has brought his knowledge of the fastly growing field to the students and faculty at Suffolk.
Lussier explained how Suffolk started work with drones three years ago, when he and Dr. Patricia Hogan, director of CUES, suggested the idea of the university buying a drone. This idea quickly turned into launching whole classes dedicated to drone instruction, as well as a certification program.
"It took us a little bit to get there," said Lussier. "We had to deal with the Office of Risk Management, because drones are dangerous things. They can cause the operator damage, they can cause damage to property and other people, and it's something to be taken seriously."
Once the drone policy and online procedure forms were in place, Suffolk was ready to start teaching classes. As the only official drone pilot at Suffolk, Lussier is the only person allowed to operate the university's drones.
"The intention is to have a lot more people, faculty and students flying drones. Having a drone check-out procedure, and having rules in place so we know where everything is, who's using it and what their purposes are," said Lussier.
Lussier also explained the seven drone-related courses currently being taught at Suffolk, paying special attention to UES-107 Introduction to Drones. This course covers basic drone functions, as well as learning how to fly safely and legally, taking pictures and videos with drones and preparing the student for the Part 107 Unmanned Operator License Exam.
"It's a science course for non-science majors," said Lussier.
Suffolk is not only working to incorporate drone work into the Science department, but they also intend to work it into the course work of many other majors, such as Communication and Journalism (CJN).
In an interview with The Suffolk Journal following the event, Lussier explained the benefits of incorporating drones into CJN work, and how students can benefit from taking the introductory drone course that leads to taking the FAA exam to become certified to fly.
"For any news event, getting a drone shot of a crowd, or b-roll shot of a certain location, I think is very useful. However, you have to be aware, because you are not allowed to fly over crowds. But at any other event, you can really get a sense of the size and scale," said Lussier.
Lussier also shared several different projects he has worked on using the technology outside of the department's coursework. One in particular, took place at Tompson Street Reservation in Gloucester, in which he studied and documented the damage the gypsy moth population had done on deciduous leaves at the reservation. Lussier provided photos of his drone flights from different heights and expressed how important this technology is for environmental work.
Teresa Feijoo, 22, is a senior majoring in environmental science who attended the event. She has taken two classes with Professor Lussier during her time at Suffolk, including Geographic Information Science.
Feijoo talked about her work with Lussier last summer at The Rough Meadows Wildlife Sanctuary in Rowley.
"I got to place targets on the marsh that got to help with the drone's geolocation and use GPS units to mark the ground control markers'  locations" said Feijoo. "I also got to fly the drone for a little bit too, which was really awesome. It was a great opportunity and experience that I can put down on my resume for more future use."
Lussier made sure to mention that any student is more than welcome to join him and other professors during projects such as the one done in Gloucester, most of which take place during the summer.
"I don't know what projects I'm going to be doing yet, but I'm open to anything," Lussier told The Suffolk Journal. He urged students to reach out to him via email if interested in attending a project, or even just to learn more about drones in general.
Lussier has big plans for the future of drones at Suffolk, and was eager to inform attendees all about how they are changing the world around us.
"Five years ago, no one even thought of this. But now we hear about it all the time, these new ways to use drones. It's incredible."
Leave a Comment
About the Contributor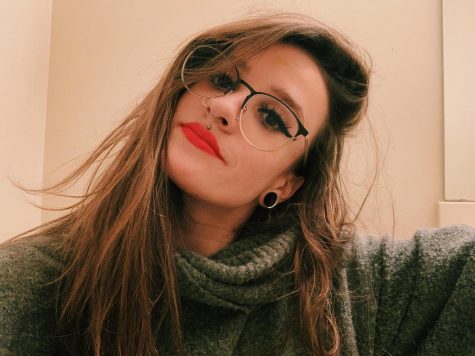 Shayla Manning, Staff Writer | she/her
Shayla Manning is Print Journalism major in her Junior year at Suffolk. She has furthered her passion of writing and reporting through the Suffolk Journal and hopes it will open up even more opportunities in the years to come. An avid lover of music and dance, she spends her time going to as many concerts as her bank account can manage. When she's not spending all her time at Thinking Cup or Clover Food Lab, you can probably find her at a show at Paradise Rock Club. She hopes to continue writing and someday work for a major music publication.
Follow Shayla on Twitter
@shaylamanning37