Community camaraderie promotes public peace
Bostonians support human peace sign on the Common
This past Saturday, the hard-working staff at Children Services of Roxbury (CSR) united the Boston community with their second ever Peace of Mind event where hundreds of people joined together on Boston Common in an effort to create the world's largest peace sign.
"The vision really came from our CEO Sandra McCroom," said CSR Vice President Harry Harding in an interview with The Suffolk Journal. "One of her missions is to build visibility and awareness for the organization."
It was a day of family fun activities as well as performances from local Boston area community groups that culminated in all the participants standing together to create a human peace sign.
Partnering with Guiness Book of World Records for the event, the CSR team had a shot to cement themselves in history by setting the record for participants in their peace sign. While they fell short of the record, an impressive 1,337 people came out to the Boston Common to be a part of the event.
For the staff at CSR, the day wasn't about breaking records or getting their name in history books, it was about bringing families from the communities together to promote peace on both a local and global level.
"It's about family. I'm a father, family is very important to me and to the agency family is really important," said Harding. "Not just the families we serve, but internally working at CSR, it's something I really can't describe, it really is a family atmosphere and work environment."
As the 1,000 plus Bostonians walked onto the peace sign outlined across an open space of grass, many sang along to songs like "We Are Family" as they waited for everyone to get in place. Many students from the area participated or volunteered at the event and there was a sense of Boston camaraderie and for a brief moment the city, and the world, felt smaller.
"It was really great to see everybody from different universities and foundations from all over come together to help out for this one cause." said Northeastern University student Alex Lopes in an interview with The Suffolk Journal.
CSR provides a plethora of services including adoption and foster care, children's behavioral health initiative programs, outpatient therapy and onsite daycare to the Roxbury area as well as across the state.
"You see a lot of organizations that will do fundraisers and events that aren't catered toward the everyday people," said senior intensive care coordinator Albert Tesci in an interview with The Suffolk Journal. "If you do a gala it's really pointed, you can't have everyone's family, you can't open it to the public, so we wanted to do something that was going to get as many people together and make Boston a smaller place."
As a non-profit organization, it is important that people are aware of CSR's work. Although CSR benefits from the donations they receive at public events, it is more important to the organization to get the word out to people in the area who may be in need of their services.
With so many beneficial programs available, the staff at CSR wants their community to be able to take full advantage of the services they have to offer.
"The idea is that all the services we offer bring peace of mind to the families at some level," said Harding. "Whether it's the mother who brings her child to day care in the morning, the child who has therapy, or the family who gets sheltered."
Leave a Comment
About the Contributor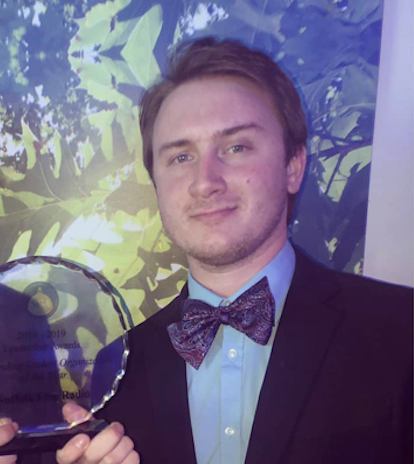 Eddie Reinhardt, Arts Editor | he/him
Edward Reinhardt is a broadcast journalism major and public relations minor who has a passion for writing. Born and raised in Massachusetts, Boston offered a chance to get out of the suburbs while staying close to family. He enjoys covering concerts and interviewing artists and hopes to one day make a career of it.