BlackkKlansman speaks on race and politics
Ron Stallworth visited Suffolk University on Wednesday to talk about his experience as an undercover police officer that infiltrated the Ku Klux Klan in the 1970's.
In 2014, Stallworth wrote the book, Black Klansman: Race, Hate, and the Undercover Investigation of a Lifetime, that documented his experience as the first Black man to infiltrate the KKK as part of an undercover investigation in Colorado Springs. Recently, famous director Spike Lee turned Stallworth's book into the feature film, BlackkKlansman starring John David Washington and Adam Driver.
"I wrote a book that has resonated with people. It has ignited a national conversation about race and race relations, and [with] the movie Spike has taken it to another level. I never planned on that. It's a little overwhelming. It's fun to be in this discussion…to be in this moment," said Stallworth.
The movie adaptation BlackkKlansman premiered in August and quickly received rave reviews from both critics and the public. Since then, it has been receiving considerable Oscar buzz, especially in the Best Adapted Screenplay category. While it is based on Stallworth's book, BlackkKlansman is not a documentary and often uses composite characters and events in order to tell a more comprehensive story. Tackling difficult subject matter, the movie is serious with moments of well-timed humor interspersed throughout.
Patsy Terrazas-Stallworth, Ron Stallworth's wife, has been supportive of her husband's newfound fame and the process from book to movie.
"Can you believe this? We're just two normal people," said Patsy.
Patsy then went on to explain how she was able to witness the reactions of people leaving the theater after they viewed the movie and one man simply told her, "I have to go home and wash the white off of me."
Before the moderated talk, the mood in the room turned serious when Stallworth pulled out his wallet to show his KKK membership card signed by David Duke, the former Grand Wizard of the organization. The biggest shock was when Stallworth mentioned that Duke called him before the movie premiered and played the voicemail for the room. On the phone, Duke praised Stallworth's book and encouraged his podcast listeners to read it and see the movie.
Stallworth then took the stage for a Q&A session moderated by Jolise "Jello" Grant, a senior Business Management major at Suffolk. Grant asked a variety of questions and kept the conversation flowing, touching upon topics of race, politics and the entertainment world. Stallworth was candid and unapologetically honest in his responses when speaking to the small audience, making the evening feel intimate.
At times the conversation was heavy, especially when Stallworth was asked what interacting with Duke was like.
"He's a likable guy. He plays well to the camera, plays well to the media," said Stallworth of the former Grand Wizard. "[However] he cannot talk to anyone for any length of time without the subject of race coming up. The minute the subject of race comes up Dr. Jekyll becomes Mr. Hyde and the monster in him is unleashed."
Stallworth then talked about a phone call in which he and Duke debated Donald Trump's racism. After challenging many of Duke's views, Stallworth pointed out a common rhetorical tactic often used by white supremacists known as pivoting.
"You pin them on something, they will pivot to another topic to redirect your thinking… kinda like what Donald Trump does every day," Stallworth said in reference to white supremacists. This comment was received well by the audience, generating a round of applause.
It was obvious that Stallworth was passionate about stopping white supremacy and all forms of hate. When asked by Grant about his time undercover, Stallworth was proud of the work he did, ultimately stopping three cross burnings due to increased police presence and removing two top security clearance officials from the KKK.
Continuing with the political theme of the night, Stallworth shared his opinion on the Black Lives Matter (BLM) movement. He openly declared his support for the organization and emphasized their mission to bring about positive community change.
"When you have that one bad apple [officer] that violates his constitutional oath at every opportunity, I will call that cop-out," said Stallworth.
David DeAngelis, the Director of the Leadership and Involvement office that contributed to bringing Stallworth to campus, felt the overall event went well. As for future events, DeAngelis supported the idea and student input, curious to know who students would like to hear.
"That's what these [events] are about, challenging new questions," said DeAngelis in an interview with The Suffolk Journal.
After Grant opened the floor for audience questions, a Suffolk student challenged Stallworth's stance on BLM and other racial issues. The pair engaged in a passionate debate that ultimately resulted in the Suffolk student leaving early. Ending the event on a tense note, audience reaction to the exchange was mixed.
"I thought [the exchange] was unnecessary," said Mileika Jaime, a senior Biology major at Suffolk.
Hannah Dillis, a graduate student studying Clinical Mental Health Counseling described the exchange as one of the more authentic moments of the night and felt that the student "was completely justified in speaking up and standing his ground."
Leave a Comment
About the Contributor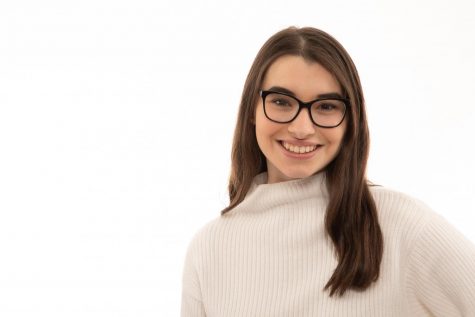 Katelyn Norwood, News Editor | she/her
Katelyn is a senior majoring in public relations and minoring in journalism. When this Massachusetts native is not typing up a storm, you can find her dog watching in the Boston Common, working at Suffolk Performing Arts, and passionately talking about the latest political issue with a hot chai latte. One day Katelyn hopes to be working on the editorial side of the magazine or media industry. She has completed interning with HGTV as an editorial intern.
Follow Katelyn on Twitter
@katelyn_norwood
Email her at
[email protected]