Rams playoff push
October is here and the Great Northeastern Athletic Conference (GNAC) playoffs are approaching as the Suffolk University men's soccer team looks to push themselves into second gear.
The Rams are hoping to finish out the season strong as they remain in the fight for postseason contention. The team has faced many challenges in the first half of the season, but has remained focused and looks to take this final month of play head on.
"We've seen it in our games, that there a lot of teams who fight for everything," said third-year head coach James Boden in an interview with The Suffolk Journal. "If you don't show that same fight in training and in games, you're going to be at a disadvantage."
With a record of 2-7-1, the Rams have seen some tough competition in the first month of the season, including a loss to Saint Joseph's College of Maine – the ninth-highest ranked team in the nation, according to D3soccer.com.
Sitting in the middle of the GNAC table, Boden said he knows his team is going to have to start stringing together consistent performances and producing high quality results against the top teams.
"It's not going to happen out of nowhere," said Boden. "We have to be ready in training and in the games to make sure we keep in playoff contention every time out."
For the Rams, they know their overall record does not control their fate. Only GNAC conference games count toward making the playoffs, and the team currently posts a 2-4-1 record in conference play. As the second half of the season rolls along, the team will turn special attention towards the remaining conference clashes.
"We have to win the GNAC games to make the playoffs," said senior midfielder and captain Alex DeSaulnier in an interview with The Journal. "There is always an edge and intensity in those games."
Although they have faced injuries and adversity all year, the Rams are keeping their heads up and pushing forward.
Last years' standout forward Christian Restrepo knows as well as anyone the struggle of dealing with being sidelined by injury. In the past season he lead the squad with nine goals, three of which were game winners.
Over the summer he completely tore his anterior cruciate ligament (ACL) in his left knee at practice before the start of the regular season. The team is feeling the impact of the loss having scored just thirteen goals in the span of ten games this year.
"My role now is to just be the biggest supporter I can," said Restrepo in an interview with The Journal. "I know I could help out there, but right now my focus is motivating the team."
With a surgery scheduled next month and a recovery timetable of six to nine months, Restrepo will miss the entirety of the 2018 season. Unfortunately for the Rams, Restrepo has not been their only player with injury issues this year. The team has had between three to five players injured and unavailable to play at various times. Not to be discouraged however, this Suffolk team understands that any member of their team could be called up at any given moment.
"The next man up always has to be ready," said DeSaulnier. "You've got be ready when someone does go down, we can't use injuries as an excuse."
With such a consistent contributor missing in Restrepo, the Rams have had to try to find new ways to score goals and get results. Boden said his team has more than enough talent to compete for a league title and despite injuries; their goal of a home playoff game has remained unchanged.
One bright spot has been freshman Leonardo Acosta who has scored three goals and provided two assists on offense. As for which players will fill in for the injured starters, Boden said his players have to earn their time on the field.
"Our guys know it's not going to be handed to them," said Boden. "Every forward wants to get the game winner, everyone wants to be the guy, and it's about seeing who can step up."
As for how the team plans on reaching its goals this year, they look to practice as a way to sharpen their edges.
"We are taking it one game at a time, trying to hit our specific goals and improve a part or ideally a couple parts of our game each week," said Boden. "We have overcome a lot of adversity on a number of levels on and off the pitch this year, and I feel that we are really pushing in the right direction."
Leave a Comment
About the Contributor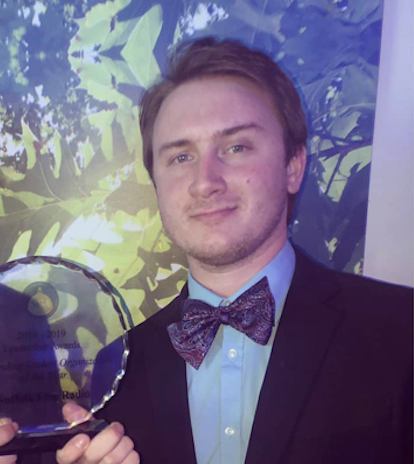 Eddie Reinhardt, Arts Editor | he/him
Edward Reinhardt is a broadcast journalism major and public relations minor who has a passion for writing. Born and raised in Massachusetts, Boston offered a chance to get out of the suburbs while staying close to family. He enjoys covering concerts and interviewing artists and hopes to one day make a career of it.