Vechten looks to lead Lady Rams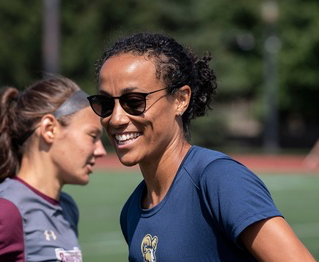 Hang on for a minute...we're trying to find some more stories you might like.
Ashley Van Vechten is the first full time female head coach for the women's soccer team at Suffolk University and it is obvious she is more than ready to take on this challenge.
"[It's] an honor and a privilege really…[that I was given] the opportunity to lead the program," said Vechten in an interview with The Suffolk Journal. "I certainly feel a little bit of the weight of that."
Her résumé speaks for itself as an all-star player. At the University of Rochester, Vechten amassed an impressive amount of awards. She was Defensive Player of the Year, four-time first-team All-University Athletic Association defender and selected first-team All-New York State honoree all four years.
Before coming to Suffolk, Vechten was an assistant coach at her alma mater for four seasons.
"[One] thing I learned from Rochester was how important the work of building a team is," Vechten said in an interview with The Journal. "Making sure everyone trusts one another and is willing to be vulnerable in front of each other."
This foundation of trust is vital to both the team and Vechten, as she joined the coaching staff this summer within weeks of the preseason.
"In the beginning most of us were nervous," said senior co-captain Melissa Adamo in an interview with The Journal. "We didn't know what to expect."
Senior captain Veronica Bernardo spoke at length on the different team bonding exercises they did at beginning of the season in order to build the chemistry they needed to be successful on the field.
With an emphasis on team-building and creating a comfortable environment, both captains and Vechten made it clear that they wanted to work together to build a foundation of trust off the field, so they could be successful on the field.
With a conference record of 2-3, the Rams won big against Anna Maria College last Wednesday with a final score of 9-0. Freshman Julia Hunt scored a hat trick in the first twenty minutes of the game. Freshman Carley Pearce and sophomore Caleigh O'Brien  scored two goals. Juniors Cassie Cavender and Emerson Wildes also  found the back of the net to secure the win for the Rams.
Big wins and final scores are not Vechten's only focus. With an array of injuries in preseason and regular season, Vechten wants to shift the attention from relying on athleticism and pace to a more possession oriented style.
"[I want them] working as a team," Vechten said. "Limiting touches for individual players but improving the speed of play."
With a completely inherited team, most of them underclassmen, Vechten's approach to the game is technical and strategic. The team's ability to adjust to the new coaching staff is something Vechten praised them for effusively.
"We are trying to turn this program into an elite level and that requires a level of commitment," said Vechten. "Their willingness to get in and adapt to that is one of the biggest benefits I've had with this program."
After talking to some of the players, it is obvious that her praise is not one-sided.
"I love her coaching style," said freshman Jackie Kelly in an interview with The Journal. "Suffolk is the first place I really learned how to play soccer without a ball at my feet. She takes her work very seriously."
Both Vechten's intensive knowledge of the game and her work ethic are what Bernardo thinks will make the team successful.
"This year the team is held to a really high standard and I think it's pushing the program in the right direction," said Bernardo.