Book club explores threats to Democracy
The Ford Hall Forum held a first-of-its-kind book club on Thursday, using "How Democracies Die," by Steven Levitsky and Daniel Ziblatt, to explore the possible real-world threats to the United States today. This political history is the summation of years of research by the two co-author Harvard professors, with the goal of answering the not-so-simple question: 'Is our democracy in danger?'
The death of democracies around the world as described in the publication were discussed by student and faculty attendees alike, each of whom had the opportunity to pick up a free copy at the Mildred Sawyer Library circulation desk.
The event was divided into two parts, beginning with a quasi-lecture by moderator and Suffolk government professor Christina Kulich, which covered general background information for the book and was open to audience comments, concluding with a question/answer period.
"This for me, as a comparitist who has studied democratic transitions, stuck out to me, where they write, 'Writing this book has reminded us that American Democracy is not as exceptional as we sometimes believe. There's nothing in our Constitution or our culture to immunize us against democratic breakdown,'" highlighted Kulich.
Throughout the meeting, audience members were invited to speak their mind regarding the successes and possible shortcomings that they have come across in the authors' findings.
"The first meeting allowed for people to passionately portray their thoughts to the rest of the group," said Suffolk senior Michelle Nolan in an interview with the Suffolk Journal after the event. "There was one man who denounced a lot of the claims that the book made and I think that's one of the biggest advantages for me; I never would have conceptualized his point of view had I not listened to him explain it that way."
Throughout the event, recurring feelings that the book had easily identifiable strengths and weaknesses were made clear. Nearly every individual who spoke, including Kulich herself, mentioned that the authors do not offer a good answer to the dangers that they claim U.S. democracy is facing.
"There's a lot of discussion about Trump, which frankly worries me. I feel it falls under the category of obvious," said one audience member to Kulich. Despite the criticisms the book faced by the crowd, Nolan felt there was especially strength in the book's global perspective.
"I haven't finished the book yet, but I am starting to think of our democracy much more in relation to other global political spheres. Sometimes I think it's easy for Americans to get stuck in their own little bubble of culture and politics and to forget that there are examples we can look to and advice we can take from other systems and societies," she said.
Levitsky and Ziblatt describe four warning signs of authoritarian behavior in a political leader: the rejection of (or weak commitment to) democratic rules of the game, denial of the legitimacy of political opponents, toleration or encouragement of violence and a readiness to curtail civil liberties of opponents, including the media.
Kulich referenced this last warning sign to the actions of President Donald Trump throughout the 2016 campaign, relating it to his many implications that his opponent, Hillary Clinton, should be "locked up."
Kulich explained, "You may be bitterly defeated, but you stay within the norms, you live to fight another day."
This event is the first in a series of four meetings of the book club group, with the third meeting featuring author Ziblatt as a main speaker, among other guest panelists. One of the primary goals of the authors and the event organizers alike, is to demonstrate to students and faculty that in the past where democracies have faced deaths at the hands of violent overthrow, military coups, or foreign takeovers, the modern reality is a slow and often legal dismantling of democratic systems.
Nolan's positive experience with the first meeting has encouraged her to plan to attend the three upcoming events, "I'm really looking forward to not only the next meeting but also the other Ford Hall Forum events that go with it. I'm thinking of it almost like a class I'm not paying tuition for, and the textbook is free."
Leave a Comment
About the Contributor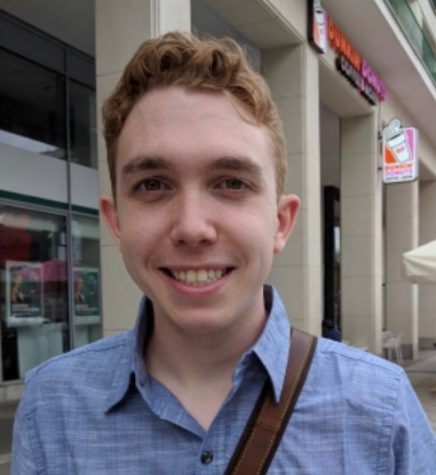 Kyle Crozier, Former News Editor
Kyle is a senior environmental studies major from Rhode Island, and has written for the Journal since 2017. When he is not covering science events in and around Boston, Kyle is working to pursue a career in urban sustainability and possibly attend Grad school. He loves animal facts, Poland, and animal facts.