Commencement 2010: Seniors say goodbye
Article by: Derek Anderson
Over 1,900 students filed into the Bank of America Pavilion on May 23 for the 2010 Commencement to take their next step forward as they graduated from Suffolk University.
With live footage streaming online for those who could not make the ceremony, the graduates took their seats and waited for the commencement to start. Andrew Meyer, Chairman of the Board of Trustees, spoke first at the ceremony, declaring it open, which was followed by cheers from graduates, parents and loved ones.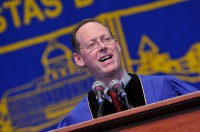 "This is a day of great joy and satisfaction," said President David Sargent in his opening remarks. "Particularly for those of you who are graduating, who have worked so hard to achieve this success and for your parents, your wives, husbands and partners and others who have helped in countless ways."

Once Sargent started the Commencement Exercises, Amy Fisher, the University Chaplain and Director of Interfaith Center at Suffolk, led the audience in prayer.
Tanya Benjamin, Philvie Daniel and Laurine Voltaire sang the National Anthem following Fisher's prayer. The trio sang the anthem with Haitian flags draped over their shoulders in honor of the Haiti disaster and to show not only the intertwined history of Haiti and the U.S., but support for Haiti in its time of need.
After the National Anthem was sung, applause sounded. Sargent then introduced the commencement speaker, Doctor Paul Farmer. "It is our great fortune to be addressed by one of the great physicians of our time. The phrase 'medical visionary' only begins the index of his achievements," said Sargent. "It has been said of him that a day in his life would be a month in everybody else's. He has reset the bar of humanitarianism. [He] is not afraid to remind one and all that we are human beings first and last."
Farmer took the stage with a mixed tone, both serious and playful. After commenting on the National Anthem and the relationship between the United States and Haiti, he congratulated the singers in Haitian/Creole.
"Now I am going to deliver my entire speech in Haitian/Creole and ask you to remain standing," joked Farmer. "It's an honor to be here with all of you and I want to start by thanking all the parents here present. Your parents and families have made sacrifices to see you through." The crowd cheered loudly in thanks after the remark.
Farmer, a physician and medical anthropologist, devoted his life to treating the impoverished in Haiti. He founded the Zanmi Lastane clinic in Haiti, which has grown into something much more since its creation, providing primary school, a hospital and a medical training facility. His remarks reflected on the topic of greatness and how the new graduates were not to fear it. Farmer mentioned many great leaders in our past and present such as Abraham Lincoln, Nelson Mandela, Joan of Arc and Rosa Parks, saying "they were or are flawed. Their greatness was disputed during their times. They were calumnied and pilloried, and in many cases, murdered and martyred. Thus our heroes, the people we really admire, mortal, with feet of clay and hearts that betray at times their better natures."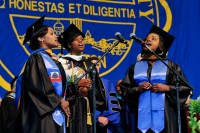 Farmer then plunged into an experience of his own over in Haiti, dating back to 1985 where he experienced firsthand the reality of medical issues and poverty. He referenced the progress that's been made in Haiti and that everyone can work toward change and improvement. After his comments on Haiti, Farmer returned back to addressing the graduates in front of him. "I have not focused today on the deeds of great women or men," said Farmer. "I seek instead to remind you that in times of doubt, when fear of failure creeps into your lives, we can and do encounter everyday heroes who rise to challenges unforeseen."
Farmer ended his speech and Sargent resumed the microphone for the conferring of honorary degrees.
Recognized and awarded their honorary degrees were Doctor Karen Bollinger-DeSalvo, Vice Dean of Community Affairs and Health Policy at Tulane University School of Medicine, Charles Burnet, a writer and director of independent film, Wycliffe "Wyc" Grousbeck, managing partner and CEO of the Boston Celtics, and Paul Farmer, founder of Partners In Health.
Student speaker Stephanie Zito took the stand next to address her fellow peers. She informed the graduates they should hold onto their memories and treasure them, but also move forward to experience the rest of their life. Zito made the comparison of a full water balloon to tenure at Suffolk. "We will always remember our first balloon acquired from Suffolk University," said Zito. "Perhaps, we will guard this one the most."
With the speakers finished, Vice President Nancy Stoll handed out the degrees to the graduates. Claps and cheers erupted as the students crossed the stage. Once students received their degrees, Rev. Fisher closed the ceremony with prayer. Graduates soon after met with loved ones and celebrated.
"I feel fantastic. I am so proud of myself," said graduate Carly Chamberlain. "I graduated with a Bachelor of Arts in French and Communication Studies. I'm actually moving to France; I got a job teaching English."
Another graduate, Steve Canty, already has a job and works in his field. "Well, right now I'm working with Red Bull and spokesperson for them. I go around and help them with sales, help out with the people, and be a part of their business, moving on and trying to get higher up and make as much money as possible," said Canty. When asked if he had anything to say to his graduated peers, Canty responded, "Congratulations. Good luck in the future; I hope everyone does well with what they are doing. Just keep working hard and we'll all make it somewhere in the world."
Leave a Comment