Bad Bunny: Scene from 'Peter Rabbit' sparks boycott from angry parents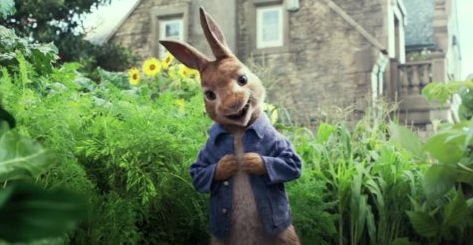 Sony Pictures "Peter Rabbit" sparked a major outrage among parents of children with life-threatening allergies on its opening weekend.
During one particular scene of the film, Peter Rabbit, voiced by James Corden, and four of his friends come up with an idea to exact revenge on their nemesis, Mr. Tom McGregor, voiced by Sam Neill, the gardener. In order to steal vegetables from the garden, the rabbits decide to use a slingshot to fire blackberries at McGregor to distract him. This might sound like an innocent plan that would look comedic on camera — except Peter and his pals were fully aware McGregor has an allergy toward blackberries.
The scene goes even more downhill after the rabbits laugh whilst flinging berries toward the gardner: one blackberry flies into McGregor's mouth, causing him to choke and start to go into anaphylactic shock. McGregor pulls out his EpiPen and injects himself with it before letting out a sigh of utter exhaustion.
This is a far cry from Peter Rabbit, who hid himself inside a watering can while Mr. McGregor tracked him down.
According to The New Yorker, Kenneth Mendez, president and CEO of the Asthma and and Allergy Foundation of America, took to social media last Saturday and delivered an open letter to Sony and the filmmakers.
"Making light of this condition hurts our members because it encourages the public to not take the risk of allergic reactions seriously," Mendez said in his letter, "and this cavalier attitude may make them act in ways that could put an allergic person in danger."
Mendez was not the only one irked by the film; by Sunday, hundreds of parents with allergy-prone children took to social media, criticizing the movie and voicing some concerns about how the movie will affect the way children ("Peter Rabbit's" intended audience, after all) treat themselves or others who have allergies.
A trending subject on Twitter was #boycottpeterrabbit.
"Someone I love has a food allergy," stated Twitter user @chelybelly02, "it's not fun, it's terrifying especially when they are children. @SonyPictures makes a kids movie and a character is attacked with a food he is allergic to and causes anaphylaxis."
Some experts have even chimed in on the matter. Dr. Andrew Adesman, chief of developmental and behavioral pediatrics at the Cohen's Medical Center in Queens, New York, spoke to The New York Times. Adesman believes Peter Rabbit flinging blackberries into McGregor's mouth is darker than Wile E. Coyote pursuing the road runner because Peter made light of a serious condition.
"There's some research out there suggesting what is depicted in this movie is a real-world experience for some children with life-threatening food allergies," Adesman told The Times. "I can understand the outrage."
In response to the controversy, Sony Pictures issued an apology statement to parents and children alike. According to Entertainment Weekly, the company admitted they were wrong to joke about the condition.
"Food allergies are a serious issue," Sony said in a joint email to The New York Times, "Our film should not have made light of Peter Rabbit's arch nemesis, Mr. McGregor, being allergic to blackberries, even in a cartoonish, slapstick way. We sincerely regret not being more aware and sensitive to this issue, and we truly apologize."
Leave a Comment