New SBS Student Executive Council discusses plans for the future
Article by: Angela Bray
The new Sawyer Business School Student Executive Council (SBSSEC) met on Thursday, April 29, in a meeting called to order by Odie Fakhouri, President of Future Investors in Real Estate. SBSSEC was inspired by this month's off site Leadership Education and Programming conference. The event focused on the Council with an overview of services available from the Undergraduate Programs Office, future plans of the SGA and Sawyer Ambassadors services available for SBS clubs and organizations. The majority of the agenda was dedicated to a discussion regarding Executive Council decisions.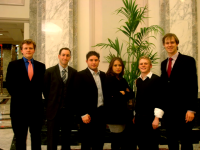 The meeting began as a representative introduced each SBS organization with its mission description. The ten participating clubs included the Association of Latino Professionals in Finance and Accounting, Collegiate Investors Association, Future Investors in Real Estate, Information Systems, National Association of Black Accountants, Professional Marketing Association, Women in Business, Beta Alpha Psi, Capital Asset Group, and the Economics Club.

Assistant Dean Laurie L. Levesque of SBS followed the introductions with a welcome.
"You let me know what you want done," said Jason Riccio, SBS undergraduate academic advisor, regarding club needs. "If we can't help, we'll lead you in the direction of someone who can help." He said that the Undergraduate Programs Office can provide SBS organizations with materials such as reusable logo-designed poster boards, SBSSEC calendar of events, poster-boards, promotional items, and the distribution of mass emails. The Undergraduate Programs Office is also offering use of the 8th floor display case and general advice as requested.
"The number one thing is to get students involved," said Professor Whalen, impressed with the initiative for involvement. "[SBSSEC] will go a long, long way. Whatever I can do for you, please come see me."
SGA President Mitch Vieira next discussed the future plans of the SGA, beginning with the President's Alliance, which will join the presidents of each student organization (beginning in September). "It will be a place to network, a great place for us to get going. I can say that for helping in the future and to get events going," he said.
Courtney Porcella directed the meeting toward Sawyer Ambassadors services for SBS clubs. "If you see something in SBS, feel comfortable enough to approach us," she advised. "If you have input, contact Odie or myself."
Fakhouri took the lead to establish the mission of SBSSEC. "In part, our mission is to prepare Suffolk University students for what comes after a four year education," he said. "We can do this by collaborating qualitative speaker events with an emphasis on professional development."
The discussion continued regarding focus on the group members and targeting the students. A possible future event is an internship fair exclusively for the Sawyer Business School. Porcella pointed this out as a way to help improve career services.
"The most rewarding thing is getting a call or an email from a student saying they got a job or internship," said Fakhouri.
SBSSEC will work with career services for the direction members are seeking. The council will address the social responsibility aspect and help those who are less privileged.
"[SBSSEC] is to promote the collaboration of clubs and the events put on by this council," said Fakhouri. "It will prepare students for every aspect, such as being in front of an interviewer."
Betty Lo, President of the Association of Latino Professionals in Finance and Accounting, presented a proposed timeline regarding Fall 2010- Spring 2011. Timeline elements began with freshmen and sophomore outreach, resume and cover letter buildup, networking, and professionalism. Junior and senior targeted events are scheduled during second semester, as well as an internship and co-op expo. "We need to plan around events such as midterms and finals, which are things that keep people from attending our events," said Lo.
"The timeline is one of the goals in mind for you," said Lo. She explained the priority to get undergrads more involved and polish up the resumes of upperclassmen. "We are providing professional development resources and will ultimately build up the university to recruit students," she said.
Fakhouri and Vieira contemplated the details of planning events, such as budgeting and timing. Vieira advised the best way to request funding is to present the need as an organization. One person is to present; also, 10 people are required to sign.
Additional suggestions for SBSSEC concluded the event. Round table discussions and clubs working together (rather than competing) were main points. It was agreed SBS groups should coordinate meetings and events to prevent overlaps so members may attend each others' events and meetings. Methods included bi-weekly meetings for individual clubs rather than weekly, and a monthly SBSSEC meeting followed by an SBSSEC-sponsored event. Another proposition was to combine two events for a more professional outcome and to possibly receive higher funding.
The final agreements were to prioritize monthly meetings (each chaired by a different organization, yet one consistent, yearly facilitator), submission and distribution of SBS club and organization mission statements, and completion of schedules using the calendar in the SLI office.
"This process is really good; the process matters," said Levesque. "It takes time to figure out how to get there. Trust the process and it will pay off after a couple of meetings."
Leave a Comment