Philadelphia Soraia shakes Allston
Wednesday was a night of firsts at O'briens Pub, a hole-in-the-wall punk rock club in Allston that hosts live music nightly. Philadelphia-based rockers, Soraia, began the first leg of their international tour and were preceded on stage by The Endorphins, who came together for their first organized public gig.
O'Briens is the kind of spot that you'd only go to if you knew someone who was performing or were enticed by the thunderous rock music inside. The bar gets loud; so loud that the bartenders sell earplugs along with drinks that can only be ordered through eye-contact and hand gestures. The walls and wide front windows quiver every time the bands do anything more lively than tune their guitars. While this may be a bit off putting to someone looking for a quiet drink, after a song or two you forget everything and get sucked into the dark punk rock scene.
Soraia began their tour with an energetic set of original songs, mixed with a few covers frontlined by lead singer ZouZou Mansour, whose stage presence alone is worth the price of admission. Before the show, the band waited outside as Mansour joked about what she would do if she saw someone in the audience wearing earplugs.
"I'll rip them out of their ears. I do beat people up a lot," Mansour said with a smirk. "No, It's a loud band in a little room, they're probably just saving their ears."
The band ended their last tour in Allston and was excited to begin their new tour in the unofficial music capitol of Boston.
"We picked [Allston] as our first stop because I'd rather come here first than last. It didn't get the attention I wanted to give it last time," she said.
Mansour's body shook and contorted to the heavy punk rock ballads with more moves than a game of chess, at times hopping off the stage to sing throughout the bar
"It comes from my heart, my soul, and the passion I have for the music," Mansour said after the show and explained that she writes most of the lyrics for the group.
The bar was far from full and kept a consistent crowd of about 30 throughout the whole night. Most of the audience was made up of bands waiting to play, or their subsets of friends and fans, giving the night a punk rock peer revue feel. The small crowd size didn't have any effect on the band who played with absolute intensity throughout the entire set.
They played their newest single, Quicksand, to wrap up their set. The song, which debuted in early August and peaked in the 22nd spot on the media-based rock charts, was reminiscent of Joan Jett's heavy-hitting discography. After the show, Mansour disembarked from the stage, content with the band's first set of the tour.
"I felt like I finally let go," Mansour said.  "It was the first show we had in a month. We just wanted to play."
Before Soraia, The Endorphins took the stage to play for the first time in a public venue, conveniently located only blocks away from their Allston apartment. They treated the crowd to a cavalcade of sleazy punk rock with tinges of a west coast surf feel.
The four person punk band began as a bedroom project between friends who all worked at a guitar center in Braintree, Mass., at different times. They had been working together for about a year,  and then they were given their first chance to play their music for a crowd.
"We just emailed a bunch people to get the gig and our other roommates do sound here," said Matt Bass, who played guitar and sang vocals for the band. "I've been here a couple times, I was worried about the vocals because sometimes you can't hear the vocals, but it went well."
The Endorphins had the musical posture akin to many of the bands come out of the Berklee School of Music, but were not professionally trained to rock a stage like many of the new bands in Boston.
"We don't have the money for that, although we do know a bunch of them " said guitarist Jordan Scarborough, as the band hung around after their set.
The enthusiasm and excitement that comes with performing a real rock gig was alive and well in the local Allston band and their faces were plastered with the smiles of young men who tasted accomplishment.
The Endorphins took their brand of rock to Out Of The Blue in Cambridge Friday.
Both Soraia and The Endorphins can be streamed on Soundcloud at https://soundcloud.com/soraiamusic and https://soundcloud.com/theendorphinsma respectively. Find them on Facebook at SoraiaRocks and TheEndorphinsma.
About the Contributor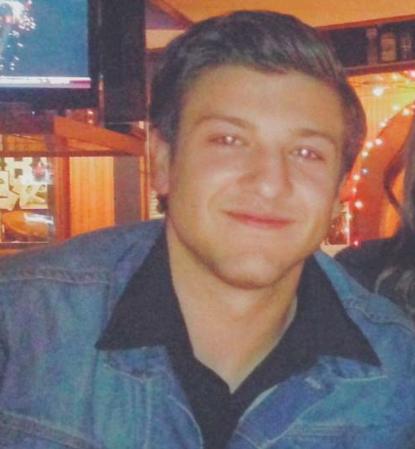 Jacob Geanous, Past World News Editor
Jacob Geanous is a senior Print Journalism major with a minor in government/international relations.
He has an associates degree in criminal justice from Mercyhurst University in Pennsylvania. His articles can also be seen in the Metro section of the Boston Globe.
No, he's not tired, that's just how he looks. He played outside linebacker at the University of Pittsburgh, but don't ask him about it. If he is not in the office, good luck finding him.