Opinion: LeBron James sweepstakes all the rage
Where the biggest free agent might be might be headed, and why
Article by: Alex Mellion
July 1st is right around the corner, and with that comes the beginning of the NBA free agency period, where all the players whose contracts ended are free to sign with a team of their choosing. At the top of this year's free-agent crop is LeBron James, aka "The King." James, the reigning back-to-back MVP of the league is quite possibly the best all-around player on the planet right now, and teams with a lot of salary cap room are salivating at the thought of adding him to their roster.
The LeBron James sweepstakes will come down to six teams, including the Cleveland Cavaliers, his current team. The other teams who figure to be in the mix to land James' services are the New Jersey Nets, New York Knicks, Chicago Bulls, Miami Heat and Los Angeles Clippers.
If he were to stay with the Cavaliers he would likely have a big say in who the team hires as their next head coach. If he decides to re-sign with the team, he would likely have a say in roster moves and other front office decisions as well.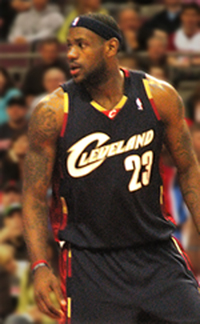 Conversely, seven years without a championship has been far too long of a wait for Cavaliers fans, who expected James to bring the city a title within the first few years. If he re-signs with the team and still fails to bring a championship home, expect him to become Cleveland's biggest pariah relatively quickly.
Next is the Miami Heat. Dewayne Wade, who is likely to re-sign with the team, would complement James well, and give the Heat two franchise-caliber players. Heat fans would love to hear announcers scream, "James to Wade" and "Wade to James," for many years to come. Plus, I hear Miami is a really nice place to live.
With that said, there's only one basketball and James may not like the idea of having to share the spotlight with Wade. Also, there aren't many other building blocks other than Wade being on the team.
The Los Angeles Clippers have a lot of good, young talent on the team that could entice someone like LeBron James to come and play with. Shooting guard Eric Gordon, who averaged 17 points-per-game last season, and 7-footer Chris Kaman, who averaged 18 points and nine rebounds, are proven play-makers. In addition, Blake Griffin will be making his long-awaited debut after missing the past season with an injury.
But they are the Clippers, who are basketball's equivalent to the Chicago Cubs. The team has made a total of seven playoff appearances in their 40 years of existence, and has only advanced past the first round once. The team's overall regular season record since 1971 is 155-2,032, which is good for 877 games below .500. I doubt James would want to go to this sorry excuse for a team.
The New Jersey Nets are also an interesting destination, because like the Clippers, they have a lot of young, raw talent who can help James finally get over the hump. The Nets have the number three pick in the draft which will help augment a good young nucleus. New majority owner Mikhail Prokhorov promised the fan-base a championship within five years, and he may do everything he can to sign James to a huge contract. Part owner and Hip-Hop mogul Jay-Z, who is James's close friend, will probably do his best to get him to play for the Nets.
However, this is a team who started out the season 0-18, and through 50 games was 4-46. They barely avoided the all-time record for losses, and James may not have the patience to suffer through a couple losing seasons before the team can contend for a championship.
Next up is the New York Knicks, who are going into the off-season with the most cap room, and will be able to offer James a huge contract. If the team manages to sign James, expect one of the other marquee free agents (i.e. Chris Bosh, Joe Johnson, Amare Stoudemire) to follow suit and sign with the them as well.
Knicks fans have had July 1, 2010, the first day of free-agency, circled on their calendar for quite some time now. Is the allure of playing 41 games a year at Madison Square Garden too tempting for James to pass up?
The team hasn't won a championship since 1973, finished no better than third place in the division the last ten years, and hasn't made the playoffs since the 2003-2004 season. Would James be able to turn the team around by himself and propel them deep into the playoffs? He obviously would be able to improve their win total, but by how much?
Last up is the Chicago Bulls, where James would stand the best chance of competing for a championship right away. They have talent at all five positions, and having James play with Derrick Rose would immediately make them one of the best in the league. A starting five of James, Rose, Luol Deng, Joakim Noah and Kirk Hinrich would be music to Bulls fans' ears. Plus James would be able to have a say in who the team hires to fill the head coaching vacancy, which could go to a high-profile candidate such as Mike Krzyzewski, John Calipari or Phil Jackson.
A move like this would ensure endless comparisons to Michael Jordan, and James would be judged on how many titles he can bring to the championship-starved city of Chicago. The pressure would be on James to bring this elusive title to the team within the first year or two, otherwise he would be considered a failure. The stress of living up to Michael Jordan's legacy in Chicago may prove to be too much for James to handle if he decides to sign with the team.
And hey, if all else fails, maybe King James can come play for the Boston Celtics. I'm sure he'd love to play for a winner and help us raise multiple banners.
Leave a Comment