Suffolk reacts to impending Title IX changes
Secretary of Education Betsy DeVos's future decisions may call the procedure of handling sexual assualt on campuses into examination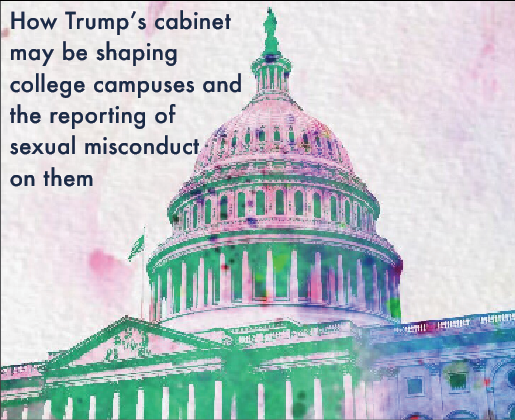 Sexual assault has moved to the forefront of discussion this month after Secretary of Education Betsy DeVos alluded to possible changes in the way universities deal with misconduct cases regarding Title IX.
Said DeVos at George Mason University during a September speech, "Here is what I've learned: the truth is that the system established by the prior administration has failed too many students. Survivors, victims of a lack of due process, and campus administrators have all told me that the current approach does a disservice to everyone involved."
As part of the United States Education Amendments of 1972 Title IX was enacted under the Department of Education [DOE] with the  parameters so that "No person in the United States shall, on the basis of sex, be excluded from participation in, be denied the benefits of, or be subjected to discrimination under any education program or activity receiving Federal financial assistance."
On April 4, 2011 the Office for Civil Rights under President Obama's administration released "Dear Colleague Letter." This memo from the DOE cemented the precedent that Title IX set, codified the protections of students from sexual harassment in all forms, free from discrimination and affirmly criminalized acts of sexual violence on campuses across the nation.
While DeVos said that "acts of sexual misconduct are reprehensible, disgusting, and unacceptable," her insinuation that Title IX's current structure disallows or prevents universities and colleges from adequately handling instances where Title IX cases apply has prompted multifarious reaction at Suffolk University.
Director of Title IX at Suffolk, Sheila Calkins, who previously served as Deputy Attorney General and as the Attorney General's Chief of Staff, responded to DeVos's recent comments and speculation that revision of the amendment could potentially come to fruition.
"The university is always going to want to make sure that they help students, and when a students has experienced something as as traumatic as a sexual assault or a domestic assault, the university is going to be there to assist that student in any way they can," said Calkins in a recent interview with The Suffolk Journal.
Calkins assured that Suffolk will continue to provide resources to any students who may need them.
The Interfaith Center, directed by University Chaplain Amy Fischer, is one of two confidential offices at Suffolk. Fischer works closely with Counseling Health and Wellness, the other confidential office on campus to ensure both the privacy and well-being of students on campus. The Chaplain, in a recent interview with The Journal solidified the Interfaith Center's place as a dependable outlet for students' concerns.
"In my mind, whatever changes are made in the Title IX requirements, if any, my role of confidentiality and a place for students to receive pastoral counseling is still applicable," said Fischer.
The Center of Counseling Health and Wellness at Suffolk has stood as an office at the university, where it has provided both medical and psychological health treatment for students. Options for those who visit the Center are numerous, and for students, having these options allows choice. Dr. Jean Joyce-Brady, the Director of Counseling, Health and Wellness, said the focus of the Center's staff is to direct students to the resources that conform best with each individual's needs and comfortability.
In the event of a federal revamping of Title IX, Suffolk would be provoked to revisit the policies and procedures listed under this amendment. Calkins said students would still be provided all resources and assistance at the university, which includes interim-measures in order to ensure students can continue without hurting their education. These interim-measures include actions such as a no-contact order, housing reassignments, additional education assistance, and may also include making sure they have access to the counseling and medical attention they need.
Calkins outlined the various ways in which students can address issues of sexual misconduct, including the Suffolk website tools, the Title IX office email, or by direct contact with Calkins herself among other methods that are listed in Title IX Student Handbooks as well as online.
"Our goal is strickly to support students and provide advocacy and support for student-victim-survivors of sexual misconduct, but we also have another responsibility and that's to make sure that other kinds of complaints are resolved fair and equitably and I think that's one of the things that Betsy DeVos is concerned about," said Dean of Students Dr. Ann Coyne in a recent interview with The Journal.
On the University's Title IX page, Suffolk labeled sexual misconduct as "antithetical to the mission of University" and that it will be responded to with diligence. Acting President Marissa Kelly has not released a statement regarding Suffolk's response to Devos's comments.
Leave a Comment
About the Contributors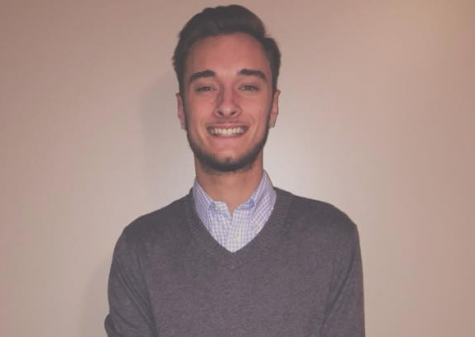 Chris DeGusto, Past News Editor
As someone who truly has no idea exactly what he wants to do in life, Chris' desire is to help those he cares about achieve their dreams. Chris welcomed a role that he never envisioned himself in; one that drives him insane.
Chris loves to tell stories, hence his passion: writing. If he's not in The Journal's office, you can find him catching up on the Sox or Celtics, studying the stock market or (unfortunately) riding the T to his favorite place in the world, Boston.
One day Chris hopes to write a book, well, actually finish a book he has already started. With a plan to travel the world and provide insight about his life experiences through his writing, Chris will always be attached to the city he calls home. And while he loves Boston more than anything, one reason why his book is not finished is because it doesn't have a suitable ending; he has a hunch that one day life will lead him to the west coast, to write him a new story.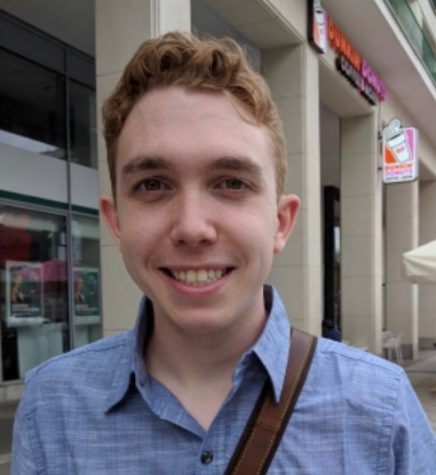 Kyle Crozier, Former News Editor
Kyle is a senior environmental studies major from Rhode Island, and has written for the Journal since 2017. When he is not covering science events in and around Boston, Kyle is working to pursue a career in urban sustainability and possibly attend Grad school. He loves animal facts, Poland, and animal facts.