Guiding students through undergrad
How upper administration adopted an evolving mindset to communicate with students
A recently wide-released mobile app, Guide, was dispersed to Suffolk University's undergraduate population this fall so students can stay updated on important tasks and milestones on-the-go.
With a simple user interface, students are encouraged to explore the tools given through the app and allows a student to discover a new major or view a class schedule. The app currently provides freshmen and transfer students the opportunity to succeed at Suffolk through the "Journeys" tab. This tab provides several core "checklists" that familiarize students with financial aid, getting involved on campus and other important aspects of the Suffolk experience.
"The concept around Guide is the nudge theory. You're putting information in front of students around the time that they need it and getting their attention, the "nudge," to hopefully follow through with that," said Assistant Provost Katherine Sparaco, who has overseen the Division of Student Success, in a recent interview with The Suffolk Journal. "It's in the mobile space where students are, getting their attention for any number of things us administrators are challenged with."
Suffolk faculty and administration were already familiar with the Student Success Collaborative (SSC), which is an advising platform designed by Education Advisory Board (EAB) for those in advisory positions to be a greater resource for students. The SSC came through Suffolk's membership with the EAB, an organization that conducts and provides research on colleges and universities on what the best practices are for student success and academic processes. Guide was offered to Suffolk, along with fifty other schools, to become a resource that students can use.
"We wanted to start off with: What is it all around the classroom that we want students to be aware of what they should do, so they can maximize their time in the classroom," asked Senior Consultant for the Guide app Madeline Pongor, in a recent interview with The Journal. "We found that college students are used to getting information tailored to them through apps. So we thought why not have the college experience through that as well."
Suffolk has a leadership team consisting of representatives from various Suffolk departments working in conjunction with Pongor to make sure the app is as tailored to Suffolk students as possible. With all the feedback from students and the team working on the app, the EAB and Suffolk administration hope to provide a more beneficial resource to students. Some of the long-term plans, this team is working on involve making the app more inclusive for upperclassmen and international students, as well as other resources that could not fit into the time frame of developing the app before it launched.
This decision, while having a positive reception, has been met with some slight pushback by students. Some have expressed how this is another app on this list of apps that Suffolk has provided to students.
"Guide is an invaluable resource for incoming students because it acts like an advisor telling them what you need to get done. But there is a need, I think from talking with Suffolk students, for an app that acts like a one-stop-shop for Suffolk University at an institutional level," said Student Government Association Vice President Yasir Batalvi in a recent interview with The Journal. "I can't overstate the importance of an app like that. Blackboard Mobile, Guide, Get Mobile, Livesafe; these serve invaluable purposes, and I don't mean to diminish any of that by saying we need a one-stop-shop solution to some of Suffolk's connectivity problems."
Otherwise, Guide has proven to be a successful wide release for this team. As of Tuesday, despite some minor bugs that affected class schedules that have since been fixed, no negative feedback has reached the team working on the app.
"So far, from face to face interaction with students we've had great feedback," said Linda Bisconti, Director of Academic Enhancement, in a recent interview with The Suffolk Journal.
As of Friday, Bisconti said that of the 4,000 undergraduate students who received the email to download the app, over 20 percent have downloaded the app.
Leave a Comment
About the Contributor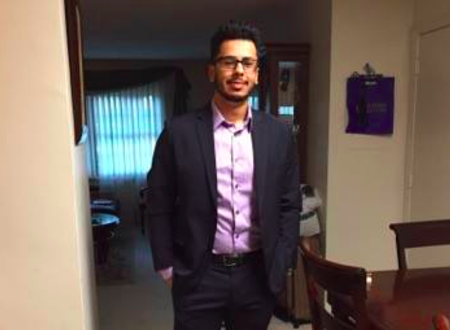 Nathan Espinal, Senior Staff Writer
Student pursuing a double major degree who's also writing articles for a paper with integrity. Usually stress eating in the library.