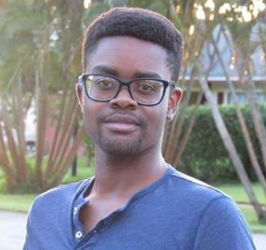 Time and time again we are told to appreciate every moment and to live each day as if it may be our last. For most of us, this is a simple reminder to appreciate life, but for Suffolk Law student Nicholas Williams, this was an everyday reality.
Williams suffered from sarcoidosis, an inflammatory disease that took his hearing and later affected his sight and lungs and ultimately, his young life. Despite the pain his illness caused him, Williams never let it affect him. He was thrilled to be entering his third and final year of law school at Suffolk with hopes of being a prosecutor after graduation.
His absence this semester has been felt by students and administration alike. In a statement sent to the law school community, Dean Andrew Perlman spoke of the spirit Williams embodied.
"Nick was a constant presence in the Law School, always eager to participate in student groups and events.  He greeted people with a smile and made everyone around him feel welcome and included," he wrote. "Nick also was courageous and tenacious.  He thrived in law school, despite some challenges posed by deafness, and in doing so, he showed everyone the meaning of grit and determination."
Williams was an officer in the Student Bar Association, a member of the Black Law Students Association, and was going to be in the law schools' Suffolk Prosecutors legal clinic this fall.
Despite the adversity Williams faced throughout his life, he was always eager to take on new challenges, such as resurrecting the Suffolk Law's newspaper. Alison Farquhar, the current Editor-in-Chief of the Dicta credits Williams with bringing the law paper back to life.
"Honest to god, Dicta would not still exist if it weren't for Nick. He rescued Dicta from the brink at the end of our 1L, assuming the Editor-in-Chief role without even being a staff writer during his first year," said Farquhar.
Nick was passionate about this project and took the paper from a budget deficit to a surplus, and had the paper publishing in print within two semesters. "His contributions to Dicta cannot be understated," said Farquhar.
David Feldman, the Director of PR for the Dicta worked closely with Williams and considers him to be one of his best friends. On Tuesday, he spoke to The Suffolk Journal about Williams's dream for Dicta. "Nick's mission was to resurrect the law newspaper. And he did! We made our own website, doubled our staff, got sponsors, and had a big breakfast to celebrate," said Feldman. "I want to keep it going in his memory."
Clinical Professor of Law Diane Juliar was supposed to have Williams as a student this year. She spoke about how determined he was in life, despite the daily challenges he faced. "He didn't let anything limit his potential, and what he contributed to the world," said Juliar, "He wanted to overcome every challenge so he could pursue his goals and his desire to do public service work."
Associate Dean of Students, Ann Santos worked closely with Williams as he went through Suffolk Law.
"It was heartbreaking that he had overcome so much, and was here, he was in his third year of law school, he had made it. Now his legacy is going to be that utter sweetness, his sincerity and caring for other people that law students sometimes lose sight of" said Santos.
Santos hopes that Williams's life will inspire others to go after their dreams, no matter what situation they may be in.
"He should be a model for anyone who thinks law school might be too difficult because of what they've struggled with in the past or currently going through. They should try it if that's what they really want because that's what Nick did." said Santos.
Williams inspired fellow classmates to be the best versions of themselves, even as they faced their own challenges.
"In my first two weeks at Suffolk Law, I was beat up in Boston, a gang initiation. They broke my jaw and it was wired shut for weeks. I couldn't talk, and Nick couldn't hear, so communication was tough for us" said Feldman. "I learned some sign language, we passed notes, but it was hard. His strength and his perseverance, that is what got me through it."
"He was one of the few people I've ever met who believed in me as a person and told me so seemingly at every opportunity. Over the past year he was an unrelenting positive force in my life. He will be deeply and truly missed by the Suffolk community" said Farquhar.