Commentary: French populism finds its face in Le Pen
Independent candidate Emmanuel Macron and former National Front leader Marine Le Pen will face off in a historic presidential election in France after their victories in Sunday's first round of voting.
"We have changed the face of French political life in one year," Macron told a jubilant crowd of supporters in a victory speech Sunday night. Macron was propelled to victory by supporters of his political movement, "En Marche!," translating to a single English word: "forward".
Macron, a left-leaning centrist, won with 23.75 percent of the vote, while Le Pen, a nationalist often compared to Donald Trump, came in second with 21.53 percent, according to the French Interior Ministry. The winner of the final round of voting on May 7 will succeed outgoing President François Hollande of the Socialist Party. Hollande declined to run for reelection in December, and recently endorsed Macron.
The election marks a historic break from French political norms, as socialists and the center-right have battled for the past 70 years for control of the nation. This is the first election in which neither faction fielded a second round candidate since the formation of the Fifth French Republic under a revised constitution in 1958, according to multiple news sources.
The Socialist Party and Republicans have rallied around Macron. Jean-Christophe Cambadélis, first secretary of the Socialist Party, told Euronews that the party will engage in a massive get-out-the-vote effort on behalf of Macron, noting that "it is out of the question that [the people] let France lose its soul."
Macron, 39, would be France's youngest president if he wins, and has never served in any elected capacity. He left investment banking for a position in the government of Socialist President  François Hollande before becoming economic minister in 2014, a post he held until resigning last April to run for president. Macron's platform is described as true centrism,  incorporating liberal and conservative policy on an issue-by-issue basis.
At her own headquarters, Le Pen celebrated her historic victory as well. Long considered an underdog by commentators and analyst, she sharply rebuked mainstream political order in her own speech.
"The system has sought all means to stifle the great political debate that this election should have been," Le Pen said following her victory, reported the Financial Times.
The right-wing brand of politics Le Pen offers ignores traditional conservative and liberal dogma in favor of populism, a brand of politics which focuses on popular, immediate concerns insted of ideological purity. It argues voters have been cheated by the 'political elite.'
A centerpiece of Le Pen's campaign has been the restoration of what she calls an "independent France." According to her campaign website, Le Pen plans to "achieve a European project respectful of the independence of France" through a referendum on the "European experiment," offering a real possibility of a "Brexit" repeat should Le Pen win the presidency.
"The EU world is ultra-liberalism, savage globalisation, artificially created across nations," Le Pen told BBC radio in November. "I believe that this world is dead."
Le Pen's France also includes a "simplification" of the French government, leaving behind the traditional system of a layered administrative state in favor of a more streamlined approach.
On social issues, Le Pen and the National Front offer a mixed bag. While Le Pen has come out in favor of unconditional abortion access and gay marriage, her campaign website states she also wishes to "restore real equality and meritocracy by rejecting the principle of 'affirmative action.'"
It is on the issue of immigration, however, that Le Pen fully and unapologetically adopts the far-right's canon. According to BBC, the 2017 National Front's  party platform promises a "massive reduction in legal immigration."
"If you come to our country, don't expect that you will be taken care of," Le Pen said of government assistance for immigrants in a December 2016 speech in Paris. "That's finished now, it's the end of playtime."
The election overseas has had an impact on the Suffolk community, where nearly a quarter of students hail from outside the United States.
"I heard a lot of people here in the U.S. saying that Trump is sexist, homophobic and racist; in France, the public opinion is the same regarding Le Pen," said sophomore communications and marketing major Celia Del-Rey.
A native of France currently studying abroad at the International University of Monaco, Del-Rey noted the polarization is as extreme overseas as it is in the United States.
The connections many make between Le Pen and President Donald Trump are not lost on Del-Rey.
"I would say that [Le Pen] and her policies are associated with Trump by both her supporters and opponents. Those who [do not support her] see her the same as those who did not support Trump. Either she is adulated, or she is hated," said Del-Rey.
Leave a Comment
About the Writer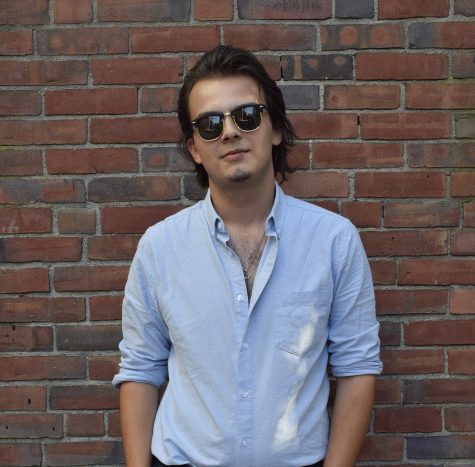 Nick Viveiros, Senior Staff Writer
Nick Viveiros is a senior majoring in Politics, Philosophy & Economics and Journalism. Born and raised in Fall River, MA, he began writing for the Journal in the fall of 2016.
Nick published his first book, the poetry collection this new world, during his first semester of college. His second book, Love Across the Zodiac, was released through his company, Quequechan Press, in mid 2019.
Follow Nick on Twitter @thenickviveiros 
or head on over to his website, nickviveiros.org