Suffolk chases talent, seeks program depth
Since last fall, Suffolk University has been the home to 204 student-athletes, which makes up about two and a half percent of the student population. Out of that small percentage, which will see an increase with the new varsity sport additions of track and field and women's ice hockey, a majority of the athletes at the university have been recruited by head coaches.
"I chose Suffolk for the location, education and the ability to play competitive Division-III baseball," said outfielder Luke Ronchi in an interview with The Suffolk Journal on Monday. "When making a college decision, finances were always a consideration, but weighing in all the opportunities provided by being in the heart of Boston, I couldn't think of a better place."
For the 2016-17 season, the Suffolk Athletics Department, a National Collegiate Athletic Association (NCAA) Division-III school, had 91 "deposits," adding members to each roster of the 19 varsity level teams that the university currently has.
The deposits were a group of individuals that were recruited by the various coaching staffs at Suffolk, because they were interested in having those student-athletes as a member on their roster.
Although the athletes were recruited by coaches, the student-athletes are not entitled to a scholarship. The student-athletes at Suffolk have to go through the same admission and financial aid process that every other student does, explained Associate Director of Athletics and Head Softball Coach Jaclyn Davis in a recent interview with The Journal.
"You try to find as many [individuals] as you can that will be successful here in terms of a student and an athlete," said the fifth-year head coach. "When I got [to Suffolk] the roster was really small so it was about recruiting as many [girls] as we could, but we are at a point where we have so much talent that we can be more picky in terms of, I don't really need X, but I need more of Y."
For Davis and Head Baseball Coach Anthony Del Prete, a large portion of their recruiting process occurs throughout the summer. The coaches attend tournaments and showcases in order to spot the talent they are interested in adding to their roster.
Depite most of the recruiting being conducted over the summer, Davis said she attends recruiting events year round.
Del Prete said that he starts contacting players following their junior year of high school. He travels throughout New England, upstate New York and New Jersey in order to find team players.
The recruiting process for the baseball team usually begins with a group of 400 to 450 prospective recruits and eventually those numbers dwindle down to about 150 interested recruits. The pool of players becomes smaller depending on academic interests, location of the university and  commitments to other schools, explained Associate Director of Athletics Del Prete in a recent interview with The Journal.
Aside from going to tournaments and watching talent on the field, the softball and baseball coaching staff reach out to their recruits and have them explore Suffolk's city campus in order to help them envision their future academic careers. Both coaches said they encourage their recruits to do an overnight stay with current members of the team in order to observe a day in the life of a Suffolk student-athlete.
Senior Ronchi was recruited by Del Prete during the summer before his senior of high school in Worcester, Mass.
The marketing major received an email from Del Prete that expressed his interest in Ronchi, but before that, the senior had never heard of Suffolk before.
Del Prete kept in contact with him throughout his decision process, which allowed Ronchi to feel like the university was the right place for him.
"Coach Del Prete does not want anything but the best for Suffolk and he wears it everyday with him," said Ronchi. "He does a good job at finding recruits that have the same intensity and work ethic as the rest of the team."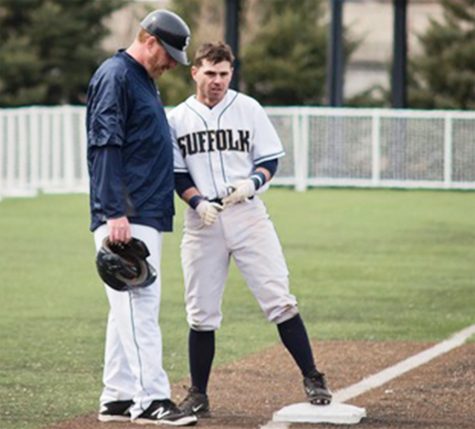 A majority of athletes are recruited to Suffolk varsity teams. Davis said that from her 19-member roster, 17 of her girls were recruited, the other two walked onto the team. Whereas Del Prete explained that every member on his roster had been recruited or in prior communication with the coaching staff before attending Suffolk.
Although each coach has to follow specific NCAA Division-III recruiting rules, they all have their respective ways of seeking talent and the appropriate academic fit for their team.
"Every coach has their own way of doing things," said Davis. "Everybody recruits and everybody's needs are different."
First-year women's golf Head Coach Jay Parker used online services such as BeRecruited and Front Rush in order to recruit his girls and currently has 675 girls in his database.
With only two girls returning to his team in the fall, Parker currently has four recruits committed from New Jersey, New Hampshire, Chicago, IL and Massachusetts. He also has two potential recruits from Miami, FL and California.
The women's golf program was established in July 2016 and the team's first season was in the fall. The first season was intended to carry over into the spring, but the season was canceled due to weather. Parker, a previous Suffolk baseball assistant coach, saw the season cancellation as a blessing in disguise for his team because it gave him the opportunity to go out and recruit more girls for his team.
"As I look at it in a maturity level, I'm still at [the] baby level as far as coaching goes," said Parker in a recent interview with The Journal. "Luckily, the recruiting process has been good because women want to part of history being the first recruiting class ever."
Varsity coaches at Suffolk are constantly striving to obtain talent for their teams in order to acquire the strongest roster for their season.
"You're always striving to find someone that is as good as or better than what you've had before," said Davis.
Leave a Comment
About the Contributor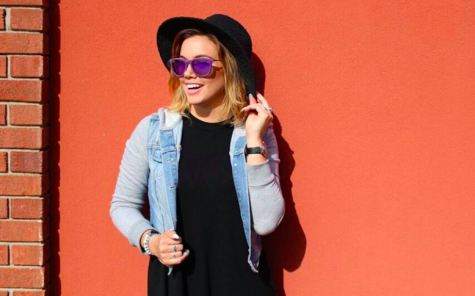 Brooke Patterson, Past Sports Editor
As a senior majoring in Journalism Print/Web, Brooke Patterson strives to not only bring a positive light to her stories, but also those around her. Despite the fact that her sports career has ended, Patterson remains involved with her love for athletics through The Suffolk Journal as the Sports Editor. She is currently exploring life in the city of Boston and will never hesitate to stop to pet a dog as they walk by her. Although Boston will forever be her home, Patterson hopes to explore and use her degree in other cities, such as New York and Los Angeles.