Global Gateway's trip more than a vacation
Suffolk University's Global Gateway program recently facilitated a week-long educational  trip to Madrid, Spain for 28 Suffolk freshman.
Admiring famous works of art in the Prado Museum, stepping onto the field at the Santiago Bernabéu Stadium, watching a live flamenco show and munching on churros con chocolate were just a few parts of the Spanish culture that the students were exposed to during their trip that explored another country and culture.
"The idea was to develop a program for freshmen students that would have a number of goals," said Acting Provost Sebastian Royo in an interview with The Suffolk Journal on Friday. "One of them is to expose them to an international experience. A lot of the students, most of them have not had experiences in other countries."
Students were exposed to all types of Spanish cuisine including squid-ink paella, croquetas and tortilla espanola.
Freshman marketing and global business major Sophia Romeo appreciated the opportunity to try the country's unique food.
"As a foodie myself, it was a great opportunity to try new food and immerse myself in Spanish culture," she said in an interview with The Suffolk Journal on Tuesday night.
Their trip also included a tapas tour where they had a truly authentic experience.
"Through touring local spots we had the opportunity to taste traditional Spanish food, especially croquetas which were the crowd favorite," said Romeo.
Although the trip was packed with adventure, visiting Spain was more than a vacation. It was a cultural experience that showed them how people in another country live.
"I was really happy to go with this program because I felt I saw so much for only going for a week," freshman English major Ali D'Arcangelo said in an interview about her experience. "I would not have gotten as much out of it if I didn't go with the Global Gateway program because they created a busy itinerary for the entire week so we would be able to see as much as possible."
Few events were scheduled during evenings so students could explore the city and dive into the nightlife.
"I think it's important to acknowledge and learn different lifestyles than the one you are accustomed to, not just on a personal level, but on a global scale. Understanding how people different than you operate can show you who you are or how you want to live your life as well as learn to be accepting of others," freshman global business and marketing major Anne Muise said. "Bridging gaps between cultures is so important now more than ever, too."
Students also took day trips to two Spanish cities, Segovia and Toledo, to see more of the country outside the capital, including the famous Aqueduct of Segovia.
Students were also able to build close relationships with Suffolk faculty members and students currently studying abroad. While many students from the group did not know each other in the beginning, by the end of their week they had formed friendships with one another.
"To be put in a group of people that you do not know and go to a foreign culture that you're not familiar with can be intimidating, but it ended up being a completely rewarding experience that I couldn't have gotten anywhere else," freshman international economics major Jordan Albrizio said after returning to Boston.
Royo hopes to expand  this program each year, so that within the next three to four years every incoming freshman will have the same opportunity that these students did.
"Ultimately our goal and our dream is that this becomes part of the Suffolk experience," Royo said. "That in their freshman year, they could have a unique experience that no other college offers."
Royo hopes that participation in the program inspires other students to visit and study at Suffolk University's Madrid campus.
Leave a Comment
About the Contributor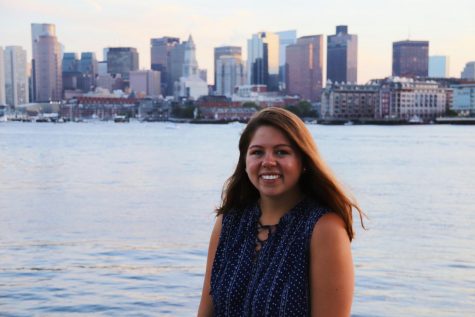 Morgan Hume, Arts Editor | she/her
Morgan is a native of Troy, New York and the Arts and Culture Editor for The Suffolk Journal. She is a rising majoring in print/web journalism and minoring in history. When she isn't scribbling into a notebook, she can be found drowning herself in cups of coffee, singing too loudly in the shower and exploring Boston, the historic city that has quickly become her home.
Follow Morgan on Twitter
@morganmhume