The Patriot Act
In what many have called the "best Super Bowl of all time," while others are still trying grasp how the comeback was possible, the New England Patriots bled red and blue while clutching their fifth ring in a first ever Super Bowl overtime.
After flying out of the gate to a 28-3 lead, the Atlanta Falcons gave up 31 straight points, including 19 in the fourth quarter to a New England team that had embodied resilience all year.
Patriots wide receiver Julian Edelman grabbed a memorable "gravity-defying" reception in the fourth quarter that led to the game-tying score, and running back James White scored the game-winning touchdown in a historical overtime.
"I told you we were going to bring this sucker home. And we brought it home," said Patriots quarterback Tom Brady at Boston City Hall after the parade had concluded.
A recent post from Brady on Instagram set the tone for fans on Tuesday.
"Attention managers of Boston, I hereby declare [Tuesday] a citywide holiday. [TUESDAY] WE DANCE IN THE STREETS," said Brady.
While this Super Bowl victory was highlighted by climatic plays on the field, in the back of Patriots fans minds was the overhanging scandal dubbed "Deflategate" that left Brady suspended for the first four games of this now concluded season.
Patriots owner Robert Kraft, added that the past two years events have made this "unequivocally the sweetest" Super Bowl win according to ESPN.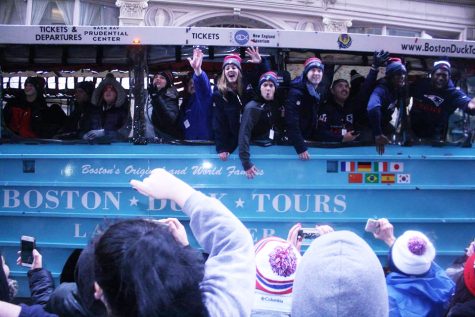 "This means the world. Second time here at Suffolk University where they're coming straight through campus in the last three years I've been here," said Student Government Association Senator Jonathan McTague in an interview with The Suffolk Journal during the parade on Tuesday. "You don't get this anywhere else."
While Brady expressed his honor of having NFL commissioner Roger Goodell present the team with the Lombardi trophy, players threw shirts that read "Roger that!" to chanting fans in the parade crowd Tuesday.
The parade featured thousands of fans repping red and blue in support of New England. The dedicated fans stuck it out all morning in the snow and sleet to get a glimpse of their favorite five time champions.
"Fire up the duck boats, the #SuperBowl Champs are coming to town!" wrote Boston's Mayor Marty Walsh in a tweet late Sunday night.
Walsh referenced the celebratory parade on Tuesday, one of familiarity to Boston residents in the past decade, where former Army vehicles and now tour guide crafts, known as the Duck Boats, carried the Patriots through the city of Boston displaying the championship Lombardi Trophy.
But beyond the records is much more for an outrageously passionate fan base. For Patriots fans, this game and season has become forever etched in Boston sports folklore.
Some have said that Boston sports fans have been spoiled for the past 16 years, as the Duck Boats have seen all ten of the city's championship teams' since the Patriots Super Bowl victory in their 2001 season. Anyone with a Patriots jersey, Boston Bruins beanie, Boston Celtics sweatshirt or Boston Red Sox cap walking around the city of Boston may tell you that they are not spoiled, but it is unarguable that the place dubbed "Title Town" has seen an abundance of success.
Since the 2001 season, Boston sports fans have relished in having seen their teams win five Super Bowls, a Celtics championship, a Bruins championship and three Red Sox World Series titles. Ten different parades of Duck Boats have traveled down Tremont Street in Downtown Boston, and fans could not be happier.
As the Super Bowl 51's Most Valuable Player Tom Brady, who threw for a championship game record of 466 yards and 43 completions on Sunday, eclipsed former San Francisco 49ers quarterback Joe Montana and former Pittsburgh Steelers quarterback Terry Bradshaw for the most ever Super Bowl wins. Adding to the records was Patriots running back James White, who hauled in a championship all-time high 14 receptions.
Joining Brady, at a now record five Super Bowl victories as a head coach was Bill Belichick. The duo has long been regarded by some sports writers, broadcasters, former players and fans as the best head coach-quarterback tandem of all time and solidified another place for themselves in history with a 34-28 win over the National Football Conference (NFL) second-seeded Falcons.
"We're all going to remember this for the rest of our lives," said Brady in his brief post-game press conference.
Leave a Comment
About the Contributor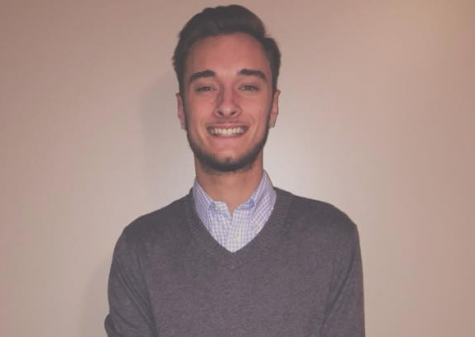 Chris DeGusto, Past News Editor
As someone who truly has no idea exactly what he wants to do in life, Chris' desire is to help those he cares about achieve their dreams. Chris welcomed a role that he never envisioned himself in; one that drives him insane.
Chris loves to tell stories, hence his passion: writing. If he's not in The Journal's office, you can find him catching up on the Sox or Celtics, studying the stock market or (unfortunately) riding the T to his favorite place in the world, Boston.
One day Chris hopes to write a book, well, actually finish a book he has already started. With a plan to travel the world and provide insight about his life experiences through his writing, Chris will always be attached to the city he calls home. And while he loves Boston more than anything, one reason why his book is not finished is because it doesn't have a suitable ending; he has a hunch that one day life will lead him to the west coast, to write him a new story.