Rams look for season turnover
Despite their month-long losing streak, the Suffolk University men's basketball team look toward improving their record this season.
The Rams currently stand with a 1-6 record this season as of Tuesday night.
The team opened up their season on Nov. 15 at Red Auerbach Arena versus Brandeis University. The Rams played hard, but it was not enough to top the Owls as they dropped the game with a score of 87-78. Sophomore shooting guard Michael Hagopian had a career-high game, scoring 17 points. He also added a 7-of-13 shooting effort from the field, three rebounds and two assists. Suffolk outscored Brandeis 32-20 with points in the paint. Sophomore guard Jim Djema made his first collegiate start for the Rams. He also had a big night for the Rams scoring 16 points and notching three rebounds. Suffolk had a shooting percentage of 50.9 from the field, but fell short on scoring from a three-point range as the Rams went 7-for-24, 29.2 percent.
Suffolk skidded into their next four games with defeat. Their first home game resulted in a close loss against rival Emerson College, 78-72. In the first minutes of play, Suffolk found themselves trailing 11-4. By halftime the Rams trailed by only two with a score of 41-39. At 15:09 in the second half, Suffolk took the lead 50-45, but Emerson came back to tie the game and take the lead. With one minute remaining, Suffolk came within three points of their opponent, but could not capitalize. Sophomore forward Steven DiPrizio once again had a career-high night for Rams scoring 22 points and making 13 rebounds.
The Rams finally came up with their first victory of the season against Wheelock College, 63-48. At the start of the game, Wheelock took a 7-2 lead, but the Rams quickly bounced back into the game. By halftime, Suffolk had the lead with a score of 29-22.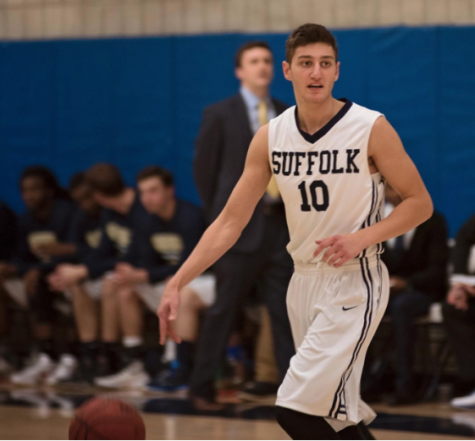 "Our first win felt great. The game against Wheelock [College] was one of our best defensive performances as a team so far," said freshman guard Jonathan Eng to The Suffolk Journal. "We still have room to improve, but the win definitely helps us and hopefully we can continue building and using the momentum."
Eng shot 3-for-3 from the field and was 2-for-2 from the three-point range. DiPrizio contributed 19 points and 17 rebounds. He also had his second double-double performance of the season and was perfect from the line.
In an interview with The Journal, DiPrizio said that while this season had not started off the way the team wanted, he has seen major improvements each time they take the court. He said that while their record does not reflect a successful run so far, each game has been so close in scoring. For the 2016-17 season, the Rams have welcomed in nine freshmen to their program.
The sophomore also talked about how unusual it is to only have one senior on the team. He said that it is nice to have someone with experience to guide the younger guys. With a lack of seniority, due to graduated players at the end of last season, Hagopian said that many of the sophomore players, including himself, have had to take on the leadership role themselves to help the new players on the team this year.
"Our team's biggest strength is our depth. All of our players are capable of providing very productive playing time to help us win games," said DiPrizio. "Our team's biggest weakness is our youth and inexperience. Since we are young, we still have a tremendous amount to learn about the game."
Hagopian, who has been playing basketball since second grade, reflected on how young the team is compared to last season. Hagopian looks forward to watching all of the freshman in the current roster grow throughout their collegiate careers in the basketball program at Suffolk.
"All of them are like our little brothers. We treat them like family, along with spending a lot of time with them outside of basketball," said Hagopian in an interview with The Journal. "They are all progressing at a fast rate, which makes me proud and I love to see it."
"We have some guys on this team that play their hearts out, at a very high speed every time they are on the floor," said Hagopian. "They are tenacious on defense and very unselfish players.  We are a very selfless team, which is great."
As for goals this season, Hagopian said that the team only has one and it is a big one.
"The team's goal this season is to play the best basketball that we can play, and to win the [Great Northeast Athletic Conference] GNAC," said Hagopian. "We know we are young and that it may take time, but we think that time could be now, so that is what we strive for,"
The Rams look to improve their record in their next home game on Wednesday against Norwich University at 5:00 p.m.
Leave a Comment