Ted Talk discusses shared economy versus traditional business
Businesses like Uber, Craigslist and Airbnb that operate under a shared economy are increasing in popularity. However, there's controversy surrounding the fact that companies based on a shared economy, a market model that relies on peers exchanging goods and services with each other, take customers away from traditional businesses, such as hotels and taxis.
At Suffolk's second Tedx Talk event, three panelists discussed the risks and rewards of a shared economy. Jad Chahine, the co-founder of Jobletics, Julie Nashawaty, a "super host" for Airbnb and Gianmarco Di Pino, the founder of myoncampuschef, each gave a presentation about the company they work for. They answered questions from students about their jobs and about working for a business in a shared economy.
Nashawaty spoke first about Airbnb, a network for people to rent apartments or houses from the owner for a short period of time, typically while travelling. She is a "super host," which means she has received a five-star rating 98 percent of the time from her guests. She explained that services like Airbnb can be scary because it's never certain who will be staying in her house, since most of the information she knows about her clients is through reviews written by other Airbnb hosts.
Then, Chahine took center stage to talk about Jobletics, a service that connects restaurants with their employees on days when they are understaffed. During the question and answer session, the co-founder addressed how the rise of self service, such as self-driving cars and self-checkout at grocery stores take jobs away from real humans. He said although it could be easier to have a machine take over work, there will always be some need for a human.
"There will be some automation, there's going to be automation everything," said Chahine during his presentation. "I think overall the fact that there's going to be somebody required to put dishes in a dishwasher or there's going to be somebody required to cook something in a kitchen, that in terms of the robots and automation, I think we're fairly safe for the future."
He believes there will always be a need for some kind of human interaction in his business.
"You can automate cars, but how do you automate people?" Chahine said later in the presentation.
Di Pino was the last one to formally speak. His said he created his company, myoncampuschef, because he wanted to bring the Italian, homestyle cooking he grew up with in Italy to college students in Boston who can only access dining hall food, so meals could be tasty and special. Myoncampuschef lets students cook a homemade meal for others at an affordable price.
Di Pino also explained how a shared economy can be beneficial to college students.
"Shared economy is helping students right now," said Di Pino. "To give them the freedom to quit anytime and it allows you to grow faster in this century where you can do whatever you want. You have so many opportunities."
Students raised questions about the fact that traditional business such as hotels and taxis are beginning to fret, because services based on a shared economy take away some of their customers.
Although Airbnb is usually cheaper than the average hotel, it is not government regulated.
Nashawaty said that she thinks when people don't take being a host warily, that's when the government needs to step in.
"When people aren't serious about this, that's the bad apple," she said in reference to airbnb hosts.
Suffolk University freshman international economics major Jordan Albrizio attended the Ted Talk and said he enjoyed hearing about the different businesses.
"I've always thought of Airbnb as being a fascinating concept, and being able to hear from an actual super host and some of her inside thoughts about the company was really enlightening," said Albrizio in an interview with The Suffolk Journal. "The other two up and coming companies i was not familiar with but after hearing their presentations, I can see how they contribute to a shared economy."
The panelists' overall advice for traditional businesses competing with a shared economy was to find ways to adapt to the future.
About the Writer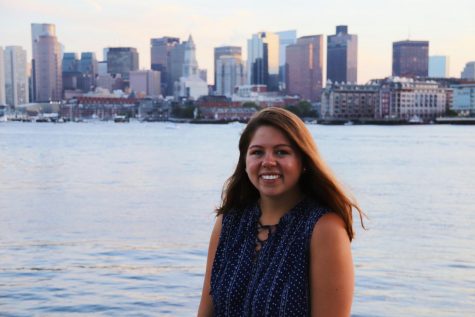 Morgan Hume, Arts Editor | she/her
Morgan is a native of Troy, New York and the Arts and Culture Editor for The Suffolk Journal. She is a rising majoring in print/web journalism and minoring in history. When she isn't scribbling into a notebook, she can be found drowning herself in cups of coffee, singing too loudly in the shower and exploring Boston, the historic city that has quickly become her home.
Follow Morgan on Twitter
@morganmhume